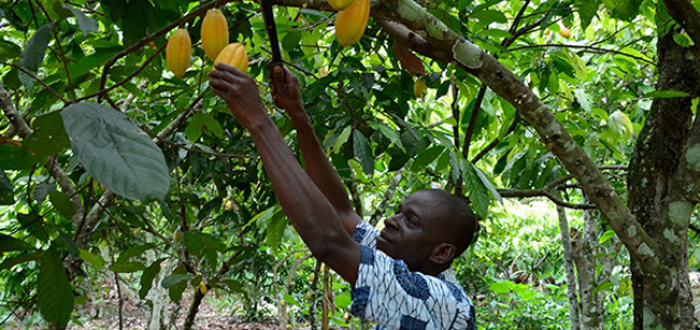 Cocoa Giants Embrace Sustainability, But Consumers Remain Key to Lasting Progress.
The cocoa industry is undoubtedly changing for the better, but the road to a sustainable sector is a long one. According to industry experts, long-term, sustainable change can't be made without paying farmers a premium.
But first, we'll examine the latest in a spate of industry sustainability initiatives: Food and agriculture giant Cargill has partnered with the World Resources Institute (WRI) to map its global supply chain, which is comprised of thousands of cocoa farmer cooperatives across Brazil, Cameroon, Côte d'Ivoire, Ghana and Indonesia. Combining satellite photography, big data and expert analysis, the effort will have resulted in the mapping of 2.3 million hectares globally in the last 12 months.
"Our partnership with World Resources Institute supports the Cargill Cocoa Promise and our commitment to sustainability. We want transparency in our own supply chain, but we also want to drive sector-wide transformation," said Taco Terheijden, Director of Sustainability for Cargill Cocoa & Chocolate. "By improving our standards of measurement, we will be able to focus our efforts on the ground to stop deforestation, launch reforestation efforts and contribute to change across the industry."
The satellite mapping project is happening against the backdrop of the cocoa sector's recognition that deforestation is a growing concern and business risk. Cargill and WRI are using the Global Forest Watch tool to more accurately assess areas of deforestation risk in the supply chain.
"We can now help Cargill create risk assessments of the land," said Caroline Winchester, a research assistant at WRI. "Following that, Cargill can manage the risks early and formulate long-term solutions. As the program progresses, we'll be able to follow how effective these measures are in protecting forests on the ground and reforesting the land."
Cargill was also an early signatory to the Cocoa & Forests initiative with World Cocoa Foundation, IDH — the Sustainable Trade Initiative, and other cocoa and chocolate companies. At COP23 in November, the governments of Côte d'Ivoire and Ghana, the world's two largest cocoa-producing countries, took another step by announcing a new Frameworks for Action to tackle forest loss.
Under the new Framework, the Ivorian and Ghanian governments and the cocoa companies that do business there have committed to protecting forests and restoring already degraded land. To that end, Cargill's mapping work with WRI is already advancing efforts that can be adopted across the industry to build out sustainable, fully traceable supply chains.
Cocoa product and chocolate producer, Barry Callebaut, is also working to expand upon its transparency efforts, publishing its first-ever Forever Chocolate progress report. It details the company's progress on its new sustainability strategy, which is based on four key targets to be achieved by 2025 that address the largest sustainability challenges in the chocolate supply chain:
Lift more than 500,000 cocoa farmers out of poverty
Eradicate child labor from its supply chain
Become carbon and forest positive
Have 100 percent sustainable ingredients in all its products
"Forever Chocolate requires a systemic change, a new approach to cocoa farming that not only professionalizes farmers but also generates social and environmental benefits to cocoa farming communities," said Antoine de Saint-Affrique, CEO of the Barry Callebaut Group. "If we cannot resolve the issue of cocoa farmer poverty, we will not reach our other targets. Our data confirms that we are on track. But we neither have all the answers yet as to how to make this happen, nor can we do it alone. Through our Forever Chocolate progress report, we extend an invitation to all stakeholders to join us on this journey to make sustainable chocolate the norm."
To achieve its environment-focused sustainability goals, Barry Callebaut has begun mapping 90,000 cocoa farmers in its supply chain to understand where they are farming and to prevent the company from sourcing from farmers located in protected forest areas. The company is also creating for all of its non-cocoa ingredients a heat map of those agricultural raw materials at risk of contributing to deforestation, and updating its Supplier Code to make sure all non-cocoa agricultural ingredients are deforestation-free by 2025. During COP23, Barry Callebaut was one of the companies that committed to the Cocoa & Forests Initiative Frameworks for Action.
In order to become carbon-positive by 2025, the company has developed a roadmap to a carbon-positive way of manufacturing, and pilots have been defined for solar and wind energy. Barry Callebaut is also looking at three other many renewable energy sources: energy from waste, energy from water, and renewable energy storage. The company's CO2e intensity per ton of average products decreased from 4.4 tons in 2014/15 to 4.32 tons in 2016/17. This decrease is largely attributed to three factors: energy efficiency activities implemented at factory level, an increased share of renewable energy sources, and an increased yield rate in cocoa factories.
In terms of its social sustainability commitments, Barry Callebaut reinvested CHF 7.5 million into cocoa farming communities via its Cocoa Horizons program and developed a Farm Services business that offers cocoa farmers products and services that improve their productivity. These packages can be bought by cocoa farmers on credit and include training on good farming practices and access to financial services, planting materials, and farm inputs. In 2016/17, the company trained over 20,000 farmers on child labor awareness and started mapping its supply chain through a Child Labor Monitoring and Remediation System (CLMRS). The activity revealed that most cases of child labor were found on family farms. To begin remedying the situation, the company rolled out awareness-raising initiatives with parents and farming communities as a whole. It is also in the process of updating its Supplier Code to incentivize suppliers of non-cocoa ingredients to have systems in place which are equivalent to CLMRS.
Meanwhile, as part of its Cocoa Life sustainability scheme, which aims to empower farmers and enhance supply chain sustainability, Mondelez International-owned chocolate brand Cadbury recently provided cocoa farmers with a glimpse of the chocolate-making process, giving the group a tour of its Bournville, UK factory.
The unique move brings another layer of transparency to Mondelez's supply chain and creates an important opportunity to generate understanding and engagement between different key stakeholders.
From the cleaning of cocoa beans to product wrapping and boxing, farmers bared witness to each step in the manufacturing and packaging process — they were even given the opportunity to make chocolate themselves. According to The Daily Mail, the visitors said they would share their experience with their fellow growers back in Ghana.
"You're used to seeing your cocoa, you see the bean's leaving the farm and then you see the end products on the shop shelf and you enjoy consuming the end products. Now I've seen all the work that goes into it, that goes into taking the bean, cleaning, taking away the husk, so many processes before it becomes chocolate, and how it's being wrapped and boxed," said Yaa Amekudzi, country leader for Cocoa Life in Ghana.
"It makes you appreciate the chocolate, actually to see the long process, to see that the beans end up in the factory and chocolates or cocoa products are made. It's encouraging to take the stories back to the farms."
While the industry is, indeed, improving, critics say that real progress can't be made until producers are paid a living wage — and consumers are paying a premium. Currently, cocoa farmers in West Africa earn a $1 a day on average, a wage well below the poverty line.
"The consumer has to pay more for better-quality food and for a sustainable supply chain," Patrick Poirrier, President of Syndicat du Chocolat, the French chocolate trade organization, told Confectionary News at the World Cocoa Foundation's Partnership Meeting this fall. "It's not a lot of money, but the impact at origin will be enormous. By paying more, [farmers] will have premiums and you will also be able to increase their revenue."
The European Committee for Standardization's definition of sustainable cocoa will play an instrumental role in bringing this change to fruition, but critics say the voluntary nature of the framework could make the situation even worse by pushing additional costs onto farmers. However, Poirrer says the standard would improve sector organization, particularly in terms of transportation and logistics, and ultimately boost resiliency in the face of price decline. It could also help tackle the issue of deforestation, as well as child labor.
"Child labor is a consequence of bad revenues for farmers. We need to find a way to increase globally the revenue for farmers. By increasing the productivity of farming, you are addressing this point," Poirrer said.
Ultimately, consumers hold the key to a more equitable future for cocoa farmers, since the cost of paying higher revenues is likely to be passed down to them. However, with more and more consumers turning to products that favor sustainability and social responsibility, brands may not be faced with an uphill battle.
The first draft of the standard is currently being reviewed and a final draft is will be released next year.