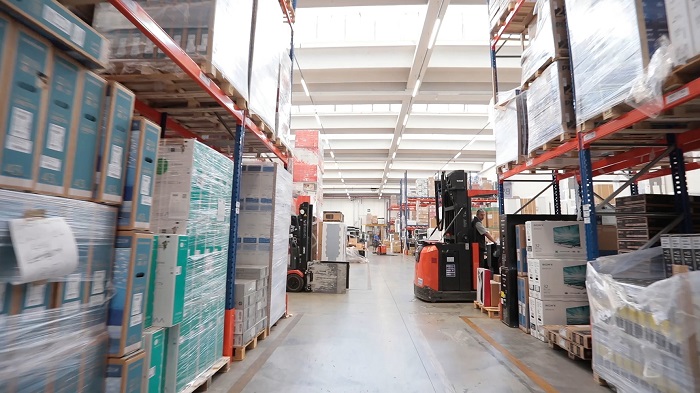 Superior battery capacity from EnerSys allows Gaer Business to complete heavy workloads with small pallet trucks .
EnerSys, the global leader in stored energy solutions for motive power applications, has enabled Gaer Business to significantly increase productivity, improve warehouse management and eliminate interruptions to shifts and workflow at its warehouse facility in Corte Tegge, Italy. EnerSys achieved these improvements by supplying their heavy-duty IRONCLAD batteries, which provide extended power, cycling life and capacity without needing more charging time than conventional lead-acid technology.
Gaer Business is one of the main logistics partner for Expert in Italy, a major Swiss house appliances retailer. Accordingly, it manages the supply chain and daily deliveries for more than 200 shops across all Italian regions. In Gaer's warehouse facility in Corte Tegge this calls for unloading approximately 10 large trucks a day, with peaks of up to 1500 items being moved.
This workload presented a major pallet truck battery challenge, arising from limited space availability. Aisles were kept to just 2.5 metres in width to create maximum warehouse space for storage. The restricted maneuvering spaces dictated a choice of the smallest available counterbalanced truck models with correspondingly small batteries: a three-wheel type with 10-quintals counterbalance and, as standard, classic 24 V, 500 A VRLA batteries. This yielded inadequate daily and cyclic battery autonomy. The situation was exacerbated as the trucks expend energy rapidly in using a clamp to handle large, heavy appliances such as washing machines.
When Gaer understood these standard batteries inadequacies, they asked EnerSys to investigate a potential solution. The requirement was to accurately measure and analyse Gaer's current energy usage, and then provide higher-capacity batteries that would significantly increase daily and cyclical autonomy.
EnerSys performed this analysis in the summer of 2016 using their Wi-iQ battery mounted monitoring devices. This allowed EnerSys to check exactly how many Ampere-hours Gaer needed, the charging times and how often they had to change the battery. In this business case, the Wi-iQ battery-mounted monitoring devices were essential in identifying the right technology for Gaer.
The results revealed a continuous state of over-discharge that was threatening battery lifecycles. In response, EnerSys recommended their heavy-duty IRONCLAD batteries, as they required no more charging time than the conventional lead-acid types being replaced, yet offered extended power, cycling life and capacity.
Significantly, the analysis revealed the IRONCLAD batteries would provide at least 10 per cent more capacity than the equivalent lead-acid types. More importantly, the trucks would also achieve faster drive and lift speeds. As a result, Gaer asked EnerSys to equip their charging room with 19 IRONCLAD batteries: 14 x 24V 552 Ah – IRONCLAD + AIR (Replacing 500 Ah standard type), 3 x 48V 516 Ah – IRONCLAD (Replacing 450 Ah standard type) and 2 x 48V 688 Ah – IRONCLAD (Replacing 620 Ah standard type).
"Our decision to opt for IRONCLAD batteries has resulted in significantly increased productivity," commented Ezio Pirondi, Site Manager at Corte Tegge. He added, "We are achieving better warehouse management, with no interruptions to shifts or workflow. We feel that the project's success has come not only from the IRONCLAD battery technology, but also the flexibility shown by EnerSys in identifying our requirements and then tailoring a solution to fit these. Their analysis of our space and daily duty cycle constraints, followed by their implementation of their significantly enhanced battery technology, allowed us to optimise our efficiency and achieve best practice, even within these constraints."
The operational benefits of using IRONCLAD batteries include a longer discharge time, fewer battery changes, and fewer spare batteries chargers and charging racks being required. This in turn allows for smaller battery rooms – an especially valuable advantage in applications like Gaer's, where space is at a premium.
The longer discharge time allows Gaer to establish longer work shifts with reduced truck downtime. The capital investment requirement is lower, with a longer depreciation period. Fleet size is also optimised.
By opting for IRONCLAD batteries, which benefit from a longer service life warranty, Gaer has also realised further, indirect benefits. The cost of truck maintenance is reduced because the higher sustained voltage and lower current draw of the batteries diminishes heat and strain on the truck's electrical components. As a result, trucks not only perform better during the shift, but also run longer before requiring a battery change.
The batteries also benefit from the application of the EnerSys Airmix system that induces electrolytes to flow around the cell through the introduction of atmospheric air. This prevents electrolyte and temperature stratification and optimises recharging.
Furthermore, the IRONCLAD batteries deliver higher sustained voltage and rugged reliability for higher productivity, even in the toughest, heaviest-duty applications, with one extra hour from each charge being possible. Their square tubular, positive plate design, which uses Cladex tubing, can run with higher specific gravities. This not only increases power and run-time, but also service life as a design specification of 1800 cycles can mean up to an extra year's life in many applications.
Additionally, IRONCLAD batteries use sleeved separators which prevent misalignment and moss shorts. Fully-insulated flexible inter-cell connectors add extra protection and the dust-proof, single-point filling system reduces topping-up time and minimises battery maintenance.