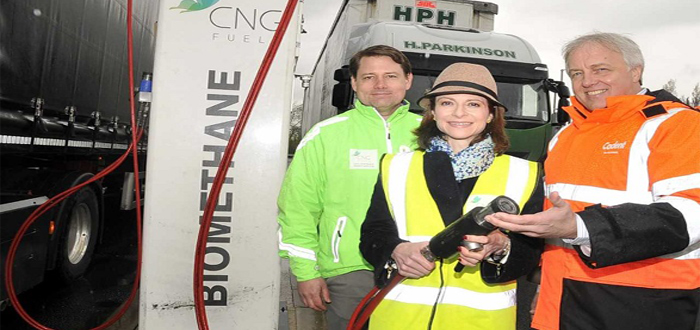 Demand for renewable biomethane nearly triples as major brands act to cut carbon.
Trailblazing CNG refuelling site points way to "decarbonised future"
Demand for 100% renewable biomethane CNG fuel has nearly tripled in a year at a trailblazing CNG refuelling station backed by gas network Cadent and operated by CNG Fuels, the companies announced today.
Seema Kennedy MP, Parliamentary Private Secretary to the Prime Minister, visited the site in her South Ribble constituency to see how it is helping UK hauliers to slash their carbon emissions and save money.
"I've been really impressed," she said. "We've got huge wagons fuelling up with 100% renewable gas. This is really exciting, it is the decarbonised future that we're all looking for."
A growing number of big retail and logistics firms like Waitrose, Asda, DHL, Argos and Preston-based H Parkinson Haulage are now using the site off the M6 at Leyland. Latest data shows the volume of gas dispensed at the site in March this year was 170 per cent higher than in March 2017.
Last year, a report revealed that HGVs using the station emit up to 84 per cent less carbon than diesel equivalents, as well as far less air-polluting nitrogen oxides. The project ended the year on a high by winning a top industry environmental award.
Operational since 2016, compressed natural gas (CNG) dispensed at the site is 30% to 45% cheaper than diesel. The gas comes directly from a high pressure pipeline, which makes it a UK-first and contributes to its heavily-reduced carbon footprint. It is certified as renewable and sustainable, as CNG Fuels pays for an equivalent amount of biomethane made from food waste to enter the network.
David Jones, transport strategy manager at Cadent, said: "We were delighted to host Seema Kennedy and explain how this technology can support Government targets for clean growth and significantly help reduce air pollution in our towns and cities.
"This site is attracting lots of interest. Its impressive results prove that gas can be the fuel of choice for HGVs and have a big impact in reducing UK carbon emissions."
Philip Fjeld, CEO of CNG Fuels, said: "Renewable biomethane is the most cost-effective and lowest-carbon alternative to diesel for HGVs. Following the success of our first site at Leyland, we are expanding our refuelling infrastructure nationwide to help fleet operators save money, cut carbon and clean up our air."
H Parkinson Haulage, based at Walton Summit, Preston, close to the Leyland refuelling station, has added seven advanced CNG vehicles to its fleet this year for long-distance contracts. Each is expected to cover over 600 miles every 24 hours.
Steve Sugden, general manager of H Parkinson Haulage, said: "Our customers care about reducing CO2 emissions and CNG lorries powered by renewable biomethane are the most environmentally friendly solution there is. These seven trucks will each cover almost a quarter million miles in a year, so they will cut our annual emissions by a massive 1,750 tonnes and save us money over their lifetime.
"We believe this is the future of green logistics, and if these trucks perform as expected we plan to add more to our fleet."