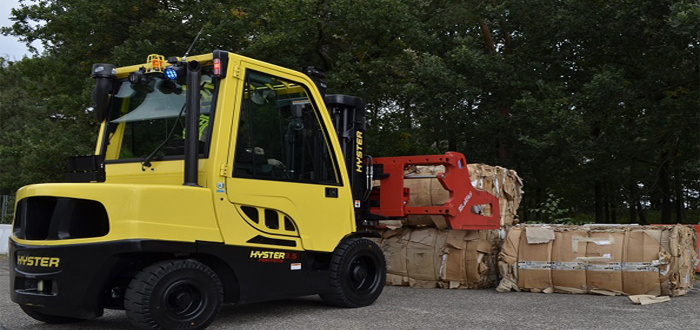 "More than just paper" – Hyster Europe reveals diverse recycling industry solutions at IFAT 2018
Hyster Europe showcases its broad range of products and specially engineered solutions to overcome the handling challenges in waste management and recycling operations at IFAT 2018 from 14 – 18 May in Munich, Germany.

"When we refer to recycling, we're talking about far more than just paper or household waste applications," says Kate Pointeau, Brand Manager for Hyster Europe. "We are also committed to meeting the handling needs of diverse recycling operations, from paper and wood, through to metals and chemical waste."

"All of these applications present specific, tough conditions as well as a common need to use attachments," continues Kate. "Our focus at IFAT 2018 is to showcase our comprehensive range of innovative Hyster® products to meet the challenges of the recycling industry, while supporting efficiency and reducing downtime."

Wood recycling

Pieces of surplus wood are often recycled to create sheets of OSB or chipboard or are mixed with paper pulp and turned into laminate floorboards, for example.  As well a wide range of solutions for handling finished recycled products, such as reel clamps, grabbing adapters and double pallet handlers, Hyster® solutions support operations from the start of the recycling process.

For instance, handling the large volumes of containerised wood chips is one challenge faced by wood recycling applications.  To overcome this, Hyster® ReachStackers can be fitted with a custom container pivot attachment which provides an efficient way to empty the containers. The specially developed Hyster® innovation allows 20ft containers to be lifted and tipped up to 60-degrees, creating the correct flow of wood chips from the container.

Another common challenge in the wood recycling industry is dust and debris, which can clog up forklift radiators and result in the truck engine overheating. T
he  Hyster® Cool Truck, for handling loads up to 5.5-tonnes, is designed to help wood recycling applications to avoid potential downtime and has features designed to reduce the vacuuming of dirt and dust from the floor into the engine compartment and uses a reversing fan to periodically blow out any unwanted dust collected.
Metal recycling

Hyster® heavy duty lift trucks are designed for durability and can be integrated with specialist attachments to handle blocks or bales of scrap metal with stability as they arrive into the recycling process.

After being shredded into small pieces, the scrap metals are usually melted at high temperatures so that they can be recycled into new material.  To withstand the high temperatures of the melting furnace, Hyster® forklift trucks can be equipped with a heat protection package.  Special features, such as an additional oil cooler, temperature resistant hoses, a heat shield for hydraulic cylinder protection or extra filter systems all help to reduce dust accumulation and prolong service life.

Special attachments, such as a rotating fork clamp, can also enable Hyster® forklifts to transport hot molten metals to the next stage of the recycling process where it is re-shaped and cooled.  Typically, recycled steel and aluminium are converted into slabs or sheets that must then be transported.  Using a magnet attachment with a Hyster® truck is just one of many effective handling solutions, enabling a specific number of sheets to be lifted, before placing a set number down in another location to reduce cycle times and speed up operations.

Chemical recycling

Chemical waste, which includes contaminated water, batteries, aerosols, glue, paint, acid, liquid chemicals and more, is frequently treated and recycled into new raw materials. Many chemical waste operations depend on tough Hyster® lift trucks that can endure the difficult, dirty conditions often found on a waste management site.

Chemical waste is commonly flammable.  To support chemical handling applications, many types of Hyster® lift truck can be converted to be explosion protected for operation in zone 1 or zone 2 areas, where chemical waste is handled.  Tough Hyster® diesel powered or electric lift trucks can be adapted with gas detection systems and other explosion protection modifications to make them suitable for use in potentially explosive chemical waste environments.

Similar modifications also support waste handling as a by-product of the pharmaceutical industry, or other recycling applications where combustible powders or dusts may be present.

Paper recycling

Standard forklift trucks operating in paper recycling operations can be prone to clogged radiators due to dust. As in the wood recycling industry, the Hyster® Cool Truck package addresses this challenge and was recently made available for 2-3.5 tonne capacity Hyster® lift trucks.

The rugged front end on Hyster® lift trucks has also been designed for use with a wide range of attachments so that it can be tailored to suit applications needs. For example, using specialist clamps for handling paper bales as they arrive into the recycling process.

Hyster® lift trucks also support the handling of paper products at the end of the recycling process, with a wide range of attachments for handling even awkward loads, such as heavy paper reels.  In addition, Hyster Europe offers lower cabin height options on several truck series to enable these loads to be efficiently stuffed into the back of lorries or a container, where the height is restricted.
 
To help enhance fleet management across large and busy recycling and waste management sites of any type, most Hyster® trucks can be fitted with Hyster Tracker telematics technology.  The Hyster Tracker system enables truck usage to be monitored and damage to be detected so that downtime can be reduced, maintenance can be managed, and operations can benefit from optimised productivity.

Hyster Europe is exhibiting at Stand 515 in Hall A5 at IFAT at the Messe München.