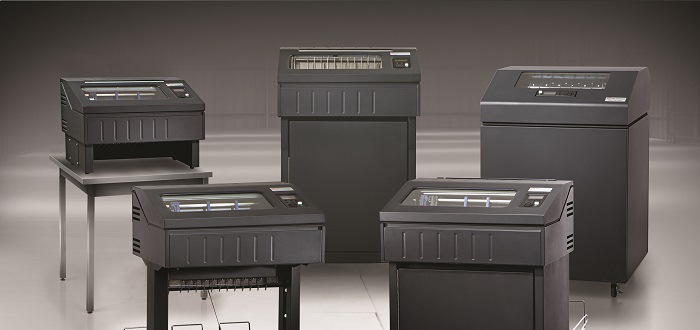 Datatrade launches 'Scrappage Scheme' on printers.
Firms have until December 29, 2017 to take advantage of Datatrade's special trade-in programme
Businesses running selected legacy printer brands in their warehouses are being encouraged to trade them in for an upgrade under Datatrade's 'scrappage scheme', which is valid until the end of this year.
"We will pick up your old legacy printer, dispose of it responsibly and install the new device," says Datatrade's managing director Peter Laplanche.
Printers eligible for the limited scrappage scheme are Mannesmann Tally MT6XX, Tally T6XXX, Genicom 44XX, 45XX, 48XX, 49XX, 5050 and 5100, as well as TallyGenicom 62XX and 63XX printers. Customers can choose any* of the TallyGenicom 6800 pedestal or cabinet models as replacements
"Knowing where a printer is in its 'life wear cycle', and its future usefulness to you is tricky. As a printer heads towards its 'burn out' phase, where it keeps breaking down or causes too much production downtime, you need to decide if it's cost effective to maintain it, or better to replace it," suggests Peter.
Datatrade is one of the few service providers left supporting printers long discontinued by their OEMS, brands like Genicom and Mannesmann Tally. And some of the machines it maintains are very old indeed and working way past their stated lifespan.
"A bit like the scrappage scheme promoted by the automotive industry to take polluting vehicles off the road, our trade-in programme aims to take out older, ineffectual industrial printers and replace them with more efficient line matrix devices.
"The latest machines offer a 20% improvement in consumable cost per page when compared with the previous generation line matrix spool ribbon," offers Peter. "Cartridge ribbons are a major improvement, they do more with less, yield a longer print life and deliver more uniform quality."
While there may be more of a trend towards laser printers, they are more expensive to maintain. Datatrade believes companies should consider the advances made in line matrix technology before they upgrade, advances such as:
· Lowest total cost of ownership
· Unmatched uptime and productivity
· Performs in any environment, from chilled to hot house
· Adaptable to almost any application
· Low energy, less waste, longer life and no fine particulate emissions
Datatrade's scrappage scheme runs until 29 December, 2017 and it gives customers an opportunity to refresh old legacy machines with more efficient TG6800 workhorses. To find out more about Datatrade's trade-in programme, call 01604 666666 or email [email protected].
* Trade-in value depends on which TallyGenicom 6800 printer is chosen to replace the legacy printer being scrapped. This offer cannot be used with any other promotion.
POSTED IN: