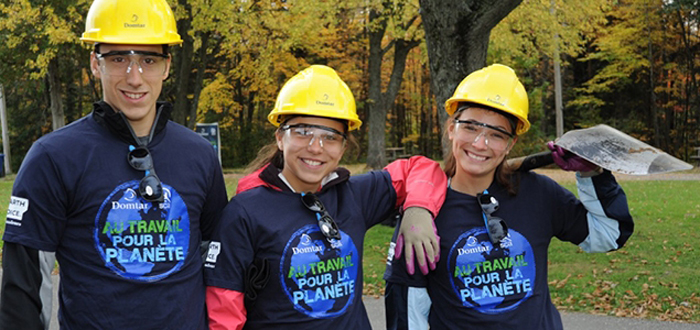 Looking to Hire Millennials? Sustainability Commitment Is Key
By:Dan Persica
The face of the U.S.'s workforce is undergoing a vast and rapid change as an estimated 10,000 baby boomers retire each day. With nearly 4 million people calling it quits each year, this silver tsunami is creating a personnel gap that is being felt by a broad range of industries.
Filling the void is the generation that in 2015 became the largest in the U.S. workforce, according to the Pew Research Center — millennials, defined by the U.S. Census Bureau as those born between 1982 and 1998.
As HR executives scramble to replenish their ranks, corporations with a commitment to sustainability have a competitive edge with this incoming cadre of workers. As with previous generations, broad brush strokes have been applied to describe millennials including lazy, thrifty, tech-savvy and narcissistic (selfie, anyone?). But statistical information suggests that sustainability is a true motivator for this generation.
According to 2016 studies by Cone Communications, 79 percent of millennials consider a company's social and environmental commitments when deciding where to work. Another 75 percent of millennials say they would take a pay cut to work for a company with a strong commitment to the Earth.
The effects of increasing baby boomer retirements are certainly reflective of what Domtar, a leading global manufacturer of pulp and paper products, is experiencing: Of Domtar's nearly 10,000 employees, about 47 percent are at or approaching retirement age, according to the company's 2017 Sustainability Report.
"The sustainability work Domtar is doing is without question the main reason young employees are interested in talking to us about career opportunities," said Kimberly Riley, Domtar's college recruitment coordinator. "What we find is that a lot of millennials watched their family members lose jobs and struggle with economic uncertainty. It's put a different mentality inside them. Millennials are looking for companies that are stable and environmentally and socially responsible. This is where Domtar is finding its competitive edge."
The fact that sustainability is integrated into every corner of Domtar's business certainly gives the organization a leg up.
"We do not want sustainability to be an 'annex' — we want it to be integrated into our everyday management," said John D. Williams, Domtar president and chief executive officer. "At Domtar, everyone has a role in sustainability."
That means millennials at Domtar have the opportunity to make positive environmental changes. The company's EarthChoice Ambassadors organize events to promote sustainable business practices focusing on customers, employees, company and community. The program includes 23 teams in three countries to improve literacy, sustainability, health, wellness and other objectives in areas where Domtar employees live and work.
"Most of the college students we talk to hone in on the sustainability of our company," said Erin Boswell, a talent acquisition partner for Domtar. "But we are not resting on our laurels. The market is very competitive, so we're working to build stronger relationships with universities and students."
Which is important as 89 percent of millennials say they want to be active participants in helping their company improve sustainability practices.
That means it is no longer enough to simply show up at job fairs. Domtar is strategically increasing its outreach by working with universities to develop industry-specific curricula, offering scholarships and committing to hiring outstanding interns. The company is also using marketing tools geared toward the millennial audience, including the recent creation of a video featuring its summer interns noting their favorite takeaways from the 2017 Sustainability Report:
"Young hires now have a tremendous advantage," Riley said. "They are coming at a time where they have access to the vast knowledge of baby boomer employees. They can take that experience, put their stamp on it and move up faster within the company. It's a great time to be a millennial at work."
First published: www.sustainablebrands.com