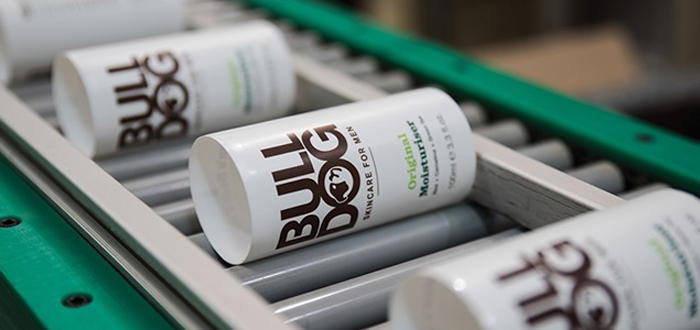 Braskem Strikes Up New Partnerships to Take Sustainable Packaging to the Next Level.
Bulldog Skincare for Men is the first men's skincare brand to use sugarcane-based plastic for its packaging.
Thermoplastics resin producer Braskem has been keeping busy, entering into a series of new partnerships to make bio-based packaging the mainstream choice for the personal care and consumer goods industries.
First, Braskem has partnered with RPC M&H Plastics to create "green" polyethylene (PE) packaging for Bulldog Skincare for Men's line of skincare products. The new tubes are derived from sugarcane that has been grown using sustainable agricultural practices in Brazil. The sugarcane serves as an effective carbon sink, removing 3.09kg of CO2 from the air for every one kilogram of green PE produced. What's more, sugarcane can be used to rehabilitate damaged farmland and soil.
To make the tubes, Braskem transforms ethanol made from sugarcane into I'm Green™ PE — which mirrors the qualities of conventional PE — which RPC M&H Plastics then uses to create flexible tubes for Bulldog's range of moisturizers, face washes and scrubs.
"Bulldog is proud to be the first men's skincare brand in the world to use plastic from sugarcane in our packaging," said Simon Duffy, Founder of Bulldog Skincare for Men. "We have always tried to make the most ethical and sustainable decisions we can, from never testing on animals to never using microbeads to making all our products suitable for vegetarians and vegans. Plastic from sugarcane is the latest step in this approach and we are delighted to have worked with M&H Plastics to turn Green PE into something we can use in the tubes and caps of our packaging."
The resin producer has also struck up a partnership with Maryland's Montgomery County Department of Environmental Protection (DEP), and ProAmpac's Trinity Packaging Division to use I'm Green PE to package the county's composted soil enrichment product Leafgro®. The county will begin rolling out the new plant-based packaging as early as April 2018, once its composting facility has gone through its existing stock of fossil-based bags.
"This Department's mission is to continue to be a leader in managing municipal solid waste. Being a leader means continuing to innovate and to move the County forward in environmentally responsible ways," said Patty Bubar, Acting Director of the DEP. "The composting operation we manage in conjunction with our partner, Maryland Environmental Service, has continued to be an innovator — reflected in its ISO 14001: 2015 certification. Decisions about the materials that are part of the composting process and the materials we use to package the finished product are both part of our 'lifecycle' approach to waste management. The ability to adopt plant-based packaging for our composting materials is a major step forward as we continue to look for the most environmentally responsible methods to recycle materials that would otherwise wind up in the trash."
Meanwhile, Braskem has signed a technological cooperation agreement with Haldor Topsoe, a Danish company specializing in catalysts and surface science, to develop a way to produce monoethylene glycol (MEG) from sugar.
MEG is an integral component of PET resin, the main man-made raw material used by the textile and packaging industries, particularly in the production of bottles. The project is based on a two-step process developed at Haldor Topsoe's labs along with its own catalysts and focuses on the conversion of sugar into MEG at a single industrial unit, which will reduce initial investment in the production and boost the competitiveness of the process.
"This novel bio-based initiative allies a cutting-edge technology with deep expertise in process design, scale-up and industrial operation, which will allow us to push the renewable chemistry to a whole new level. After the Green Polyethylene, this is another major step forward in our vision of using renewable polymers as a carbon capture tool and keep contributing to a more sustainable future," said Mateus Lopes, Head of Innovation in Renewable Chemicals at Braskem.
With the agreement, Braskem aims to expand its portfolio of renewable products to offer new solutions that complement its bio-based polyethylene marketed with the I'm Green seal. "With this new partnership, we strengthen our position as protagonists in the development of innovative solutions that will leverage the competitiveness of different biomasses and complement the traditional solutions offered by the petrochemical industry," added Gustavo Sergi, Director of Renewable Chemicals at Braskem.
As part of the agreement, a demonstration plant will be built in Denmark where the two companies will conduct tests to validate the technology and confirm its technical and economic feasibility — a critical step before launching production on an industrial scale and commercial operations. The unit will be flexible to validate the technology in different raw materials such as sucrose, dextrose and second-generation sugars. The plant is scheduled to begin operations in 2019.
First published at www.sustainablebrands.com