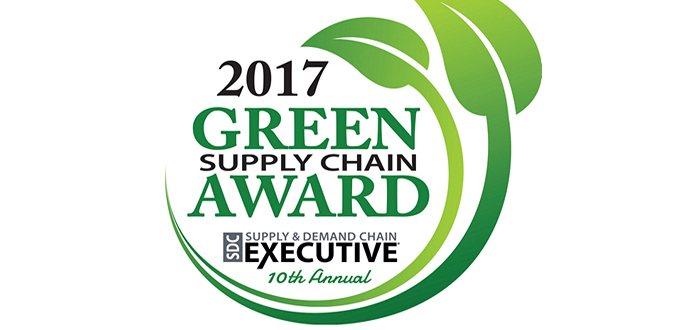 Tyco Retail Solutions wins 2017 Green Supply Chain Award from Supply & Demand Chain Executive.
Tyco's retail customer Piazza Italia supports sustainability initiatives through innovative hard tag recirculation programme
Tyco Retail Solutions, part of Johnson Controls, has been recognised for its commitment to promoting and supporting retailers' sustainability initiatives for the second straight year. The company is the recipient of the 2017 Supply & Demand Chain Executive Green Supply Chain Award, an annual distinction that distinguishes providers of supply chain solutions and services who assist their customers in achieving measurable sustainability goals. Tyco's 2017 award is in recognition of industry leading green initiatives with its retail customers, including Piazza Italia.
As a recognised leader in fashion, Piazza Italia is committed to delivering the most current styles to its shoppers while maintaining its commitment to sustainability. In 2013, the retailer launched a source tagging program with Sensormatic Acousto-Magnetic (AM) Electronic Article Surveillance (EAS) hard tags offering tangible benefits by combining a strong visual theft deterrent with point-of-manufacture source tagging. The retailer has since changed from single use tags to recirculated hard tags, providing an eco-friendly alternative to disposable tags from both an environmental and a business operations standpoint.
Tyco's global recirculation and source-tagging initiatives provide the green savings and business benefits of recycling and receiving "retail ready" merchandise. Tags are recirculated, recertified and reused through Tyco's efficient supply chain process which cost effectively moves tags around the globe via strategically located, highly efficient recirculation centers, and offering retailers such as Piazza Italia a buy-back incentive to reduce cost of ownership and deliver impactful savings. Hard tag recirculation provides Piazza Italia with savings by eliminating the manual process of applying tags at the store, improving tagging compliance, reducing shrink and reducing time to the sales floor.
"We believe that environmental responsibility is not only good business but also a social obligation. Today, sustainability is a major focus for our retail customers like Piazza Italia as stores look to provide not only high quality service and security, but also to implement sound green-friendly practices," said Tony D'Onofrio, chief customer officer, Tyco Retail Solutions.
The Sensormatic apparel tagging recirculation program, the first of its kind, recycled more than a billion tags in 2015 and has recycled nearly seven billion since the program began in 2010, saving a total of 35 million pounds of plastic while reducing waste and costs for customers. Today, more than half of Sensormatic brand labels are applied by product manufacturers or packaging companies, instead of in store. The programme encompasses source application of EAS disposable labels, as well as recirculated AM EAS and RFID hard tags. With over five billion apparel items tagged to date, source tagging is a trusted programme for retailers worldwide as they work to remain competitive and green in today's retail environment.
Last year, the company's manufacturing facility in Mexico earned recognition as a 2016 S&DCE Green Award winner for its effort to conserve resources through the development of an energy management system, and also nationally with a 2015 Environmental Award from the National Council of the Maquiladora and Export Manufacturing Industry of Mexico. The same facility achieved ISO 50001:2011 certification last year.