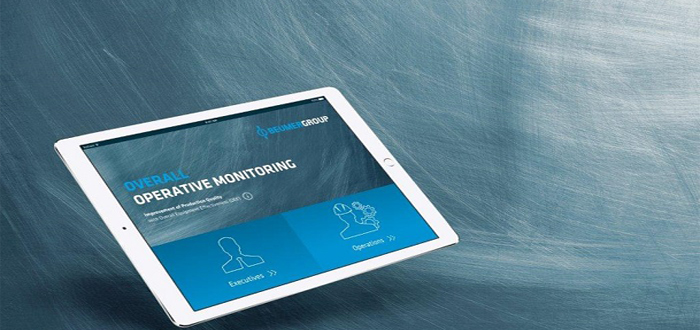 Users can constantly keep an eye on the current status of the systems connected to their system using the new BEUMER app on their mobile device.
BEUMER Group will exhibit its high level of expertise as a single-source provider for filling, palletising and packaging technologies at POWTECH 2017. Considered the leading trade fair for processing, analysis, and handling of powder and bulk material, the show takes place from 26 to 28 September in Nuremberg, Germany. Conveying systems will also be featured, backed by the system supplier's comprehensive customer support team. Whether the systems are designed for building material, cement, or chemical products – BEUMER offers everything from one source.
The behaviour of powders and bulk material can change entirely according to operating conditions, handling methods and the intended use. It varies depending on the size and shape of the particles, bulk density, compressibility, cohesive strength, humidity, oil content and the kind of chemical reaction to the atmospheric conditions. This impacts the flow behaviour, which has a considerable influence on how the conveying, filling, palletising and packaging systems are to be designed. BEUMER Group designs, constructs and installs systems that are tailored in detail to the individual requirements of the user.
With its belt conveyors, the system supplier provides economic and sustainable solutions for bulk material transport. The belt conveyors are able to negotiate curves and are designed either as open troughed belt conveyors or as closed Pipe Conveyors. Belt conveyors can be adapted optimally to the topography of the environment due to their ability to negotiate rough terrain, long distances and large differences in height. By overlapping narrow horizontal and vertical curves, belt conveyors fit seamlessly within existing terrain. BEUMER Group will also provide information on belt bucket elevators and high-capacity belt bucket elevators for particularly large delivery rates and heights.
As a single-source provider, BEUMER Group supplies and installs the packaging lines and adjusts them to the products of the customer. The BEUMER fillpac R filling machine fills bulk material from the building materials industry and other industrial pulverized goods into bags in an efficient and gentle way and with the required throughput. It can fill very fine to very coarse materials into different bag formats and types, such as valve bottom bags and flat valve bags. BEUMER Group has now complemented the rotary filling machine with a BEUMER bag placer and a ream magazine. This means that performance and efficiency can be further increased. The highly efficient form fill seal system BEUMER fillpac FFS is used in the chemical and petrochemical industries. It forms bags from a prefabricated tubular PE film and fills them with the product of the customer.The BEUMER bag tester is a new addition to the product range: The testing device is easy to transport and enables users to exactly determine the venting capacity of any type of valve bag and therefore their suitability – including all paper and plastic layers, and glued areas.
After filling, the bags are then stacked on pallets. For this, BEUMER Group offers the BEUMER paletpac high-capacity palletiser. It is incorporated into high-performance packaging lines to process even sensitive and valuable products as well as products with special flow characteristics in a gentle and efficient manner. Depending on the product requirements, it can be equipped with a clamp-type turning device or a twin-belt turning device. BEUMER Group offers the BEUMER robotpac, a space-saving articulated robot, for palletising cartons, boxes, canisters or trays. This fully automatic machine is able to solve even complex palletising and de-palletising challenges reliably and efficiently.
During transport, the palletised products must be secured on the pallet and protected against dust, rain or other atmospheric influences. The BEUMER stretch hood high capacity stretch hood system can be used for this. Compared to previous versions, the BEUMER stretch hood A now offers higher throughput, gentle transport of the film in the system and requires 40 percent less floor space. The systems supplier can now provide the system with a newly developed easy opening hood: it allows employees in retail stores and logistics centres to quickly and easily remove the film when unpacking or repacking the goods, without the use of any cutting tools.
Under the banner of Industry 4.0 BEUMER Group has developed the BEUMER Overall Operation Monitoring app, an application with which the customer's employees have all relevant indices of their packaging line displayed on their mobile devices at any time. The application shows the status quo of availability, performance and quality levels as well as the energy and compressed-air consumption. This ensures efficient operation of all systems. The program can be adapted to customer-specific requirements.
BEUMER at the POWTECH 2017, hall: 1, booth 627. www.beumergroup.com