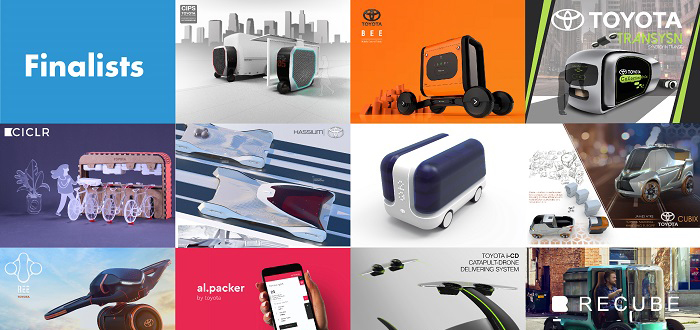 Toyota Logistic Design Competition now open for public voting.
The 2018 design competition by Toyota Material Handling Europe with the theme "Package Delivery. Join the revolution" is now open for public voting. The People's Choice Award will be announced at CeMAT 2018 in Hanover, Germany.
With "Package Delivery. Join the revolution" the 2018 Toyota Logistic Design Competition focuses on the growing trend of consumers making decisions and purchases online. As e-commerce is becoming the norm, a fast delivery time has become an absolute priority, but is not always a reality due to underlying factors such as traffic. Therefore Toyota challenged all European design students to come up with a sustainable, revolutionary solution that facilitates direct delivery and optimises the last mile to customers.
"We are very pleased with the results and the continued growth of the third Toyota Logistic Design Competition. This edition, we wanted to broaden our perspective towards the students and welcome designs from other disciplines as well besides the evident industrial and transportation designs," says Magnus Oliveira Andersson, Head of Design at Toyota Material Handling Europe.
This year's competition has topped last year's edition with more than double the amount of registrations. Eventually, 86 designs have been submitted by design students from all over Europe, of which 15 finalists are now selected. Everyone is welcome to vote for their personal favourite design. Public voting can be done via http://tldc.toyota-forklifts.eu until 20 February 2018. The most popular design will receive a People's Choice Award of €1000.
The top 3 finalists and the public's favourite will be invited to and announced at the award ceremony, which takes place at Pavilion 32 on the CeMAT fair in Hanover, Germany.
The Toyota Logistic Design Competition is part of Toyota's Logiconomi programme. Logiconomi is the word Toyota Material Handling uses to describe its way of thinking – aiming for 'lean' processes, eliminating waste, maximising efficiency and reducing cost.