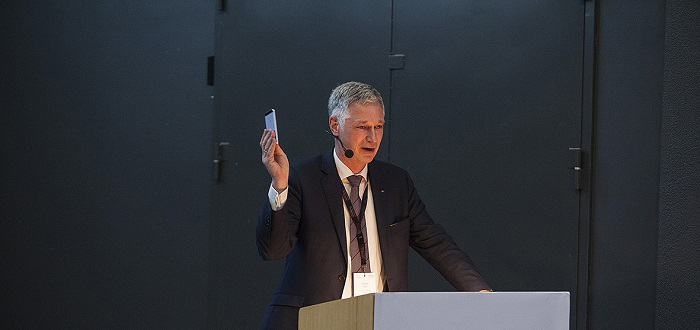 Toyota Logiconomi: collaboration for the future.
On 31st January Toyota Material Handling Europe hosted the first Logiconomi Convention in Mjölby, Sweden. Bringing together senior managers from leading European companies to work together towards future logistics requirements in a fast-changing world.
Logiconomi
"We recognise that we have to be open-minded and agile when it comes to future trends in logistics technology, and collaboration with customers and like-minded suppliers is vital to achieve this. It's an ongoing process for us – we call it Logiconomi," explains Matthias Fischer, President and CEO of Toyota Material Handling Europe. The first Logiconomi Convention took place on 31st January 2018 in Mjölby, Sweden at the company's headquarters and factory. The event brought together leading logistics professionals from all branches of manufacturing, wholesale and retail distribution across sixteen European countries. It coincided with Toyota's R&D exhibition, which is normally reserved for staff and suppliers only, but now offered a sneak peek to selected customers as well.
Collaboration
"Collaboration is essential," continued Fischer "and we recognise the need to gain valuable input and feedback from our customers as early as possible in the development process. This was already the case for the Europallet, which we developed in cooperation with the Swedish Railways back in the 1940s. It was a fitting example of early collaboration to eliminate wasted space in railway and road containers. But of course today's technical revolution requires us to embrace many more opportunities and challenges."
Keynotes
The convention included keynotes from guest speakers including Dr Patrick Dixon, a leading futurist who set the scene by reflecting on the speed of change in human expectations. Randall van Poelvoorde gave an insight into the fast changing world of robotics and artificial intelligence, and President of Volvo Venture Capital, Per Adamsson, explained how collaboration and technical partnerships have helped to develop Volvo's use of telematics in road vehicles.
Future logistics
The event provided delegates with the opportunity to look at some of the latest developments from Toyota Material Handling Europe in the areas of automation, including robotics concepts from Toyota's sister company Vanderlande; future handling scenarios based on artificial intelligence – known as 'A.I. Team Logistics', as well as a focus on energy, including the latest lithium-ion battery technologies. Telematics was another key area, based on Toyota's leading market position, now with well over 50,000 smart trucks in operation, and with next-generation technologies enabling pre-planned flash-servicing.
Lean logistics
Another unique aspect of the convention was the opportunity to see how automation is now being progressively introduced into Toyota's own factories, to further improve the efficiencies of the Toyota Production System – which forms the foundation for the company's 'Lean Logistics' programme. "We have a strong reputation for lean-thinking," continues Fischer, "and we want to continuously improve our approach, focusing on the elimination of waste, preventing injuries and boosting productivity. This event has helped us to share our ideas, gain valuable feedback, and share our lean-thinking with customers."