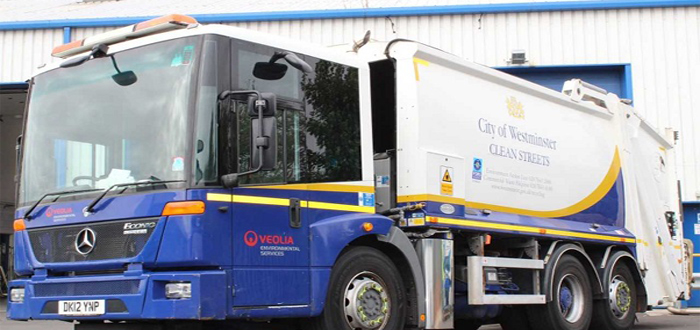 Revolutionary technology to help clean up air quality for Londoners.
Ground-breaking technology developed in the UK will be fitted to rubbish trucks in Westminster, in the bid to reduce harmful emissions and nitrogen oxide by 99 per cent.
The innovative solution replaces existing exhaust systems and filters emissions of the heavy-duty diesel vehicles.
The technology, developed by Eminox in partnership with Westminster City Council and Veolia, has been successfully trialled on two Westminster City Council Euro 5 refuse collection vehicles (RCVs). During the pilot, nitrogen oxide levels fell by 99 per cent, resulting in lower emissions than newer Euro 6 vehicles.
The system also means the trucks will beat the Ultra Low Emission Zones (ULEZ) target set by Transport for London.
Cllr Tim Mitchell, Cabinet Member for Environment and City Management, said: "Poor air quality is a major concern for our residents – that's why we're using new technology to tackle the problem in a world first.
"Westminster is a leader in improving air quality and councils across the UK have eagerly followed the project's progress. Investing in technologies like this scheme is how we're creating a healthier and greener city."
"We've struck up an excellent partnership with Eminox and Veolia and look forward to witnessing what our hard work delivers in the near future."
Carlos Vicente, Eminox Retrofit Sales Director, said: "We have been working with Westminster Council for many years and they have always been early adopters in clean air technology. The support from Westminster for this project has enabled us to collaborate with Veolia and Amminex to develop real world Euro 6 ULEZ solutions for the most prestigious RCV fleet in the country."
Pascal Hauret, Regional Director for Veolia London, said: "As one of the UK's largest fleet operators, we play a crucial role delivering cleaner air for London and across the UK. Veolia has been trialling low emission vehicle technologies with industry leaders like Eminox since 2012, and we're now ideally placed to support the shift to low emissions, improving air quality in Westminster and beyond.
"We're delighted to have worked with Westminster City Council and Eminox to lead the waste sector in adopting this technology which represents a huge opportunity for cities across the country."
Eminox designed the technology after Westminster City Council committed to retrofitting its vehicles with the invention, should it be successfully accredited under the Clean Vehicle and Retrofit Accreditation Scheme (CVRAS) for ULEZ.
The positive trial included lab testing as well as field testing on the two Westminster vehicles, which resulted in the Eminox SCR & PM Abatement System with ASDS technology receiving accreditation by Energy Saving Trust and CVRAS. This accreditation formally recognises the system as a solution to reach clean air targets.
The two Westminster City Council vehicles used in the trial will continue to run with the installed system, while the remainder of the fleet will be fitted ahead of ULEZ starting in April 2019.
The system works by combining a Diesel Particulate Filter with Selective Catalytic Reduction and Amminex ASDS technology. The combination allows an industry first to be achieved, lifting busy, older diesel vehicles to Euro VI standards.
Ultra-Low Emission Zone (ULEZ)
From 8 April 2019, all heavy vehicles operating in central London, including refuse collection vehicles (RCVs), must meet Euro 6 emission requirements or pay a penalty of £100 per day.
Further information on ULEZ can be found on www.london.gov.uk/press-releases/mayoral/ulez-will-start-in-2019-to-tackle-toxic-air.