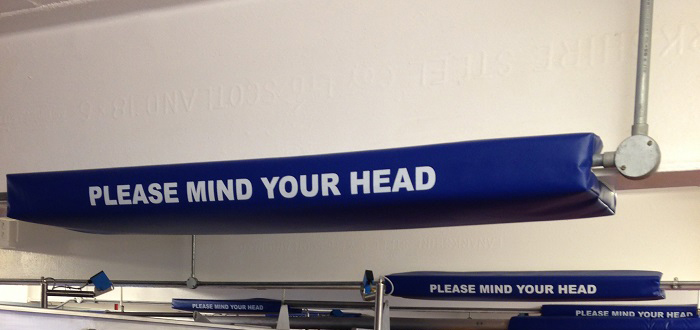 New product from British company Safety Pads makes warehouses and factories safer and less likely to suffer damage.
Safety Pads [Safety-Pads.co.uk] has launched a colour range of British-made custom fit safety pads and post protectors for warehouses and factories. The products are designed to decrease the likelihood of any impact injuries and damage to assets in the work environment.
Made from high grade foam, specially selected for impact reduction, the safety pads and post protectors can be made to fit almost any surface and instantly render posts or sharp corners harmless, reducing the number of accidents, recorded injuries and, in extreme cases, lawsuits.
Neal Spencer, Managing Director of Safety Pads, says, "We have been producing foam products for the wider market for over three decades, including all the goal post protectors for the Rugby World Cups. Our products are not only the highest quality out there but our customers can trust that they are being made by one of the oldest and most trusted foam companies in the UK – and one of the biggest in Europe."
Safety Pads is part of the GNG Group of companies, manufacturing a range of quality foam products across safety, sports and play, sleep and healthcare and specialises in international white label services. Based in Yorkshire, all of the company's products are manufactured in its Wakefield based factory.
"As opposed to some of the other alternatives, our products are made right here in the UK and have a much greater level of quality control. We take pride in our 'Made in Britain' status and we strive to maintain the levels of quality that this statement represents" continues Spencer.
More details – and product case studies – can be found at www.safety-pads.co.uk
About Safety-Pads.co.uk
Part of GNG Group, Safety Pads is the leading manufacturer of bespoke safety solutions in many industries around the world, from sports to construction to education. The company has built its reputation single-handedly since 2002. From the initial specifications to the installation of the solution, Safety Pads specialists handle the safety of customers' premises so they don't have to.
Over the last 35 years GNG has been established as an international brand leader in the healthcare, sports, safety, and lifestyle industries. GNG manufactures all of its products in the UK and has a 30,000 ft² manufacturing facility in Wakefield, West Yorkshire.