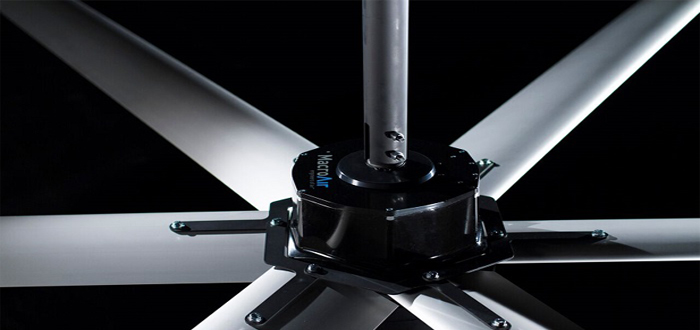 MacroAir, The Cost-Saving HVLS Fan Company, Joins NHRA Drag Racing's Elite Don Schumacher Racing.
The most innovative High Volume, Low Speed industrial ceiling fan technology in the world has joined with the most innovative organization in professional motorsports to further expand the benefits of greater fan efficiency.
MacroAir Fans has announced  that the company, based in San Bernardino, Calif., has become the Official High Volume, Low Speed fan partner of Don Schumacher Racing (DSR), the largest professional team operation in National Hot Rod Association (NHRA) competition. DSR expects to further save energy through the use of MacroAir's AirVolution-D line of large ceiling fans throughout its 145,000-square-foot headquarters. This includes the massive area that houses DSR's seven NHRA Funny Car and Top Fuel teams and transporters that have won 16 NHRA world championships and 311 national event titles since 1999.
DSR Top Fuel dragster pilot Leah Pritchett, a native of nearby Redlands, Calif., the sport's current elapsed-time record holder (3.658 sec.), and winner of four career national events, will be one of the three main endorsers of the MacroAir brand along with fellow teammates Tommy Johnson Jr. and Matt Hagan. All seven DSR entries will carry a MacroAir logo for the remainder of the 2017 season.
DSR recently began installing eight of MacroAir's 16-foot, 6-Blade HVLS fans to create a subtle wind chill effect during the summer that keeps employees comfortable while enabling the raising of the thermostat setting by as much as seven degrees while maintaining the same comfort level. In the winter, DSR will run MacroAir's state-of-the-art direct drive AirVolution-D fans in reverse to de-stratify air that, previously, saw warm air – meant to stay near the ground — rise to the rafters. With air de-stratified, a heater will run less while maintaining consistent temperatures throughout the building, saving on energy costs.
"Our program with MacroAir helps us become more environmentally friendly, it will save us money, and provide our employees with an even better work environment," said DSR owner Don Schumacher, who was an innovative driver/owner of Funny Cars when the class was created in the late 1960s. He is also the chairman and chief executive officer of Schumacher Electric Corp., the worldwide leader in the manufacturing of battery chargers.
His ties to early racing are similar to the background of MacroAir founder Walter Boyd.
"From the moment I met Don Schumacher I saw many commonalities," said MacroAir CEO Eddie Boyd, son of founder Walter Boyd. "First, racing is in our DNA as well. We knew this was an organization that shared our corporate values and one that we wanted to be associated with. As the inventor of HVLS fan technology and with the best fans in the industry, MacroAir appreciates DSR for recognizing that about us when it sourced a manufacturer for its industrial ceiling fan needs."
After moving to Southern California in 1969, Walter Boyd worked in various capacities in Formula One, IndyCar and Can-Am race environments. Now in his retirement and in his ninth decade, Boyd continues to design and build racecars from his race shop in Apple Valley, Calif.
In 1998, Walter Boyd's engineering company was hired by the Cooperative Extension of the University of California, an arm of the university that worked to promote and aide California agriculture, to make some parts for an experimental 20-foot diameter wooden paddle fan sought to cool dairy cattle to improve milk production. That project fueled many other opportunities to refine, design, engineer, and apply large industrial fan (HVLS) technologies among numerous other industries. MacroAir continues to eye automotive-related firms and the world's grassroots racing competitors as key targets.
From his racecar involvement, the elder Boyd had considerable knowledge of low-speed aerodynamics, which he knew would be the key to creating such a fan. He also drew upon his experience with the aluminum extrusion process, which he saw as an economical way to produce an airfoil blade of the proportions required.
With his son Eddie essentially running the company, Walter Boyd spent the next 10 years dedicated to the development of HVLS technology understanding not only factors that affect the fan's performance, but also how the air from such a fan actually behaves and how that air movement can be manipulated to optimize human comfort. It was on the basis of that knowledge that MacroAir and an entirely new industry were formed. Today, HVLS ceiling fans are in large demand within industries that include warehouse manufacturing, automotive, health and fitness, agriculture, aviation and restaurant/retail/hospitality among others.
"We appreciate great engineering — especially engineering born out of motorsports such as what MacroAir founders Walter and Eddie Boyd were able to do," Schumacher said.
Don Schumacher is a drag racing pioneer who, as a popular driver in the early '70s, revolutionized the sport of professional drag racing by discovering efficiencies that come with fielding more than one team under one roof and landing some of the first significant corporate sponsorships in the sport. www.macroairfans.com