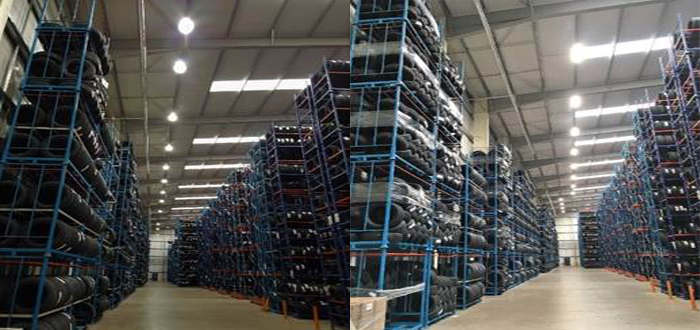 LED Lighting for Stapletons Tyres gives major energy and CO2 savings.
Ecolighting UK Ltd has recently won an £850,000 contract with Stapletons Tyres to install LED lighting into all its 11 warehouses around the country saving the company in excess of 50% energy and CO2 costs as well as significantly improving light levels.
Stapletons Tyres, part of the Japanese Itochu Corporation, is the UK's largest national wholesaler and distributor of car tyres, each year supplying 5 million tyres 24/7 with twice daily deliveries. The Kwik Fit tyres retailer is also part of the Group.
The full lighting project started following a successful trial with LED lighting at Stapletons Tyres' Letchworth distribution centre – indeed Ecolighting had lit it previously with the then energy efficient T5 fluorescent tubes back in 2013.
This scheme was soon followed with the installation of LED lighting to Stapletons Tyres' newly acquired Peterborough 200,000 sq.ft. warehouse which Ecolighting completed well ahead of schedule. With a start date of October the scheme needed to be finished by early February but it was actually completed at the end of November.
Stapletons Tyres are delighted with the results of the project as Group Director Ian Kirkpatrick comments, "We chose to work with Ecolighting based on our past experience with them not only providing value for money but also their high customer service levels. The team at Ecolighting are incredibly responsive and very flexible if there is a potential issue that could cause delays. They really do focus on customer service and operational needs and are always very professional and efficient."
For Stapletons Tyres, there were big benefits in switching to energy efficient LED lighting within the context of ESOS (the government energy saving opportunities survey) as the lighting provided huge reductions in energy and carbon footprint – here some 1,174 tonnes of CO2 was saved on the company's carbon footprint. Ian Kirkpatrick adds, "All but two of our eleven distribution centres have now been completed and in the last three or four months since the first distribution centres were completed in Guildford, Maidstone and Portbury, we have achieved a 50% reduction in energy which is excellent."
The projected financial savings put forward by Ecolighting illustrate a very short return on investment, with payback averaging just 1.75 years across all the distribution centres. In addition by investing in the LED lighting schemes, Stapletons Tyres attracts an enhanced capital allowance (ECA) of 19% of the investment able to be reclaimed in the first year.
Depending on the actual distribution centre building, Ecolighting has installed LED lighting in the warehouse aisles, at mezzanine level, in the despatch areas, under the external canopies, in the car parks and in many distribution centres there was office lighting installed too.
Unlike many other lighting companies, Ecolighting has its own team of lighting and electrical installation engineers as well as carrying out the lighting scheme design with Relux software in the early stages of client lighting projects. The company also manufactures its luminaires in the UK and uses UK-sourced Osram control gear and LED chips. All of this means that the company has much better control than many and can present better value for money to clients. The company is also a Carbon Trust Accredited Supplier, assessed to BSEN ISO 9001:2015 and are members of the Lighting Industry Association.
For the Stapletons Tyres lighting installations, Ecolighting drew on its extensive portfolio of LED lighting products, particularly its Pegasus LED Highbay luminaire and Altos emergency LED Highbay fittings used in lighting the main warehouse aisles. They also used their Sapphire LED linear fittings for the mezzanine areas, plus LED floodlights for yards and car parks and its 600 x 600 LED modular fittings where offices were lit. All of the Pegasus LED Highbay luminaires feature DALI drivers and Pir occupancy sensors to dim the lights down or turn them off when no-one is present, both making a large contribution to the energy savings achieved whilst ensuring health and safety remains a priority.
As one of the UK leaders in LED lighting solutions to commerce and industry, Ecolighting has worked with many other big name companies such as Kuehne Nagel, Man Truck & Bus, Carlsberg, Debenhams, Culina and Cadburys.
Further information on energy saving LED lighting schemes is available from Ecolighting on 01455 552511, by emailing [email protected] or by visiting the company's website at www.ecolightinguk.com