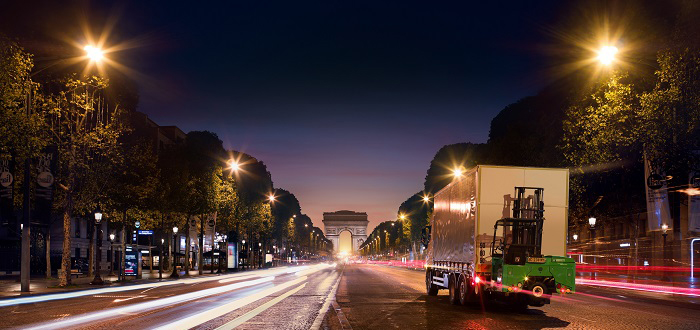 Hiab's MOFFETT E-Series recognised for zero-emission logistics.
Hiab, part of Cargotec, has won a coveted 'Archie' trophy at the Fork Lift Truck Association (FLTA) Annual Awards for Excellence for its industry-leading approach to reducing the noise associated with out-of-hours deliveries. The award recognised the benefits achieved when Hiab's customer Pets at Home switched to a fleet of Hiab's MOFFETT E-Series forklifts, the world's first electric-powered truck-mounted fork lift trucks. This recognition by the FLTA follows hot on the heels of the project winning a Quiet Logistics accolade at the Noise Abatement Society's John Connell Awards.
With 80% of Pets at Home's weekly 1,400 store deliveries being carried out after 8pm, the retailer needed to find a solution to noise complaints that it was receiving from residents located close to some of its stores across England. Working with Hiab, Pets at Home began a six-month trial of a MOFFETT E-Series as it was the noise from the retailer's diesel-powered forklifts that residents were complaining about.
Steve Travis, General Manager for Transport at Pets at Home, described the MOFFETT E-Series as a "total game-changer" as it enabled the retailer to return to scheduling its fleet at the most economic time of day, "saving money on fuel, reducing our carbon footprint, and no longer being a nuisance to our neighbours".
During the trial, the drivers reported that that MOFFETT was just as "up-to-the-job" and just as "user-friendly" as its diesel counterpart, and there was plenty of charge-time to enable through-the-night multi-drop deliveries.
"Demands from our customers and technology advancements are driving Hiab to provide environmentally-friendly emission-free products," said Barry McGrane, Sales Director, Truck Mounted Forklifts, Hiab. Hiab's desire to 'become the number one partner, shaping and inspiring the industry' is highlighted in the development of the MOFFETT E-Series.
"By working closely with our customers, we know they are facing a tougher and more demanding load-handling environment with tougher emission regulations. Legislation is demanding it, and our customers' customers want it. Our MOFFETT E-Series range of truck-mounted forklifts go a long way to solving this problem."
Rogier van der Linde, Managing Director, Hiab UK & Ireland, added: "More and more people are moving to the cities – urbanisation is happening at a fast pace, so we all have a role to play in thinking in a more sustainable way and finding solutions to the challenges of delivering in urban environments. At Hiab, we respond to these needs with solutions like the MOFFETT E-series and HIAB loader cranes that are powered electrically by a plug-in-system (ePTO), which means that they can be operated when the truck engine is switched off. These solutions make our customers more productive, eco efficient and increase the window of opportunity for their business."
VIDEO: