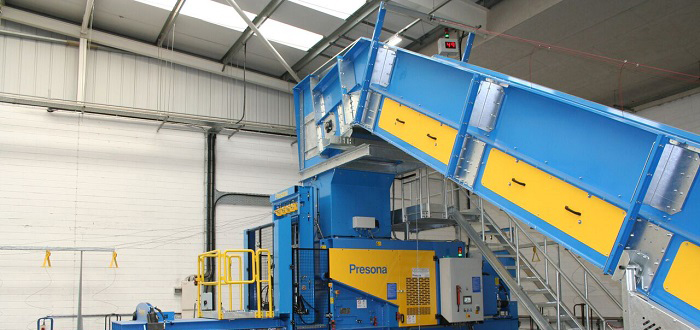 Heron Foods installs Presona baler and conveyor system.
Rapidly expanding discount supermarket chain Heron Foods has chosen a new LP 50 EH2 prepress baler for its main distribution centre in North Ferriby in the East Riding of Yorkshire.
Heron Foods, which has just become part of the B&M group, has also installed a new Presona PUK Conveyor to feed recovered plastic and cardboard packaging into the baler.
The baler and conveyor system was selected following a competitive tender and will extend and improve the supermarket's recovery and recycling process from its 251 stores. The new system will provide the additional capacity required for the retailer's ongoing expansion plans which will see it open 20 new stores in 2017.
Steve Dean, Heron Foods Facilities Manager, was responsible for choosing the new baler and conveyor.
"Our existing baler was nine years old and was reaching the end of its life. It was running 20 hours a day to bale our recovered plastic and cardboard packaging," he said. "It needed constant maintenance and was clear that it would not be able to cope with the increasing quantity of material resulting from our expansion plans."
In order to identify the most efficient replacement which also assured good value, Steve developed an engineering-led procurement process that evaluated performance, reliability, engineering, support and expenditure. The competitive tender process identified two front runners.
"The point scoring system highlighted Presona's impressive approach to engineering," he said.
"I made the final decision based on further research and an independent third-party recommendation," he said.
Since taking delivery of the new LP 50 EH2 and PUK conveyor, Steve has been impressed with its performance.
"We can now process all material in one eight hour shift, which is a massive time saving," said Steve.
He has also been impressed with the support provided by Presona's engineering and maintenance team.
"Presona's response is always spot-on," said Steve. "Nothing is an issue; they are always willing to help and have the right information to hand. How can you put a procurement score on that level of support?"
The LP 50 EH2 has a 37kW motor and features an ECC tying unit with vertical needles from above. The baler does not require support legs, making it easier to locate within an existing footprint, and has an average hourly throughput for cardboard of up to 10 tonnes, maximising material handling even in space-limited locations.
As with all LP Series balers, the LP 50 EH2 incorporates Presona's prepress technology. This provides Heron Foods with bales of even density which are uniform in size making them easily stackable and transportable.
The prepress can accommodate large material sizes without the need for pre-shredding. It is also more energy efficient as all the press force is used for material compaction.
The PUK conveyor system was selected for its integration with the baler and its rugged design which was specifically engineered to overcome problems of oversize and overweight materials experienced in waste management and recycling environments.  www.presonauk.co.uk,