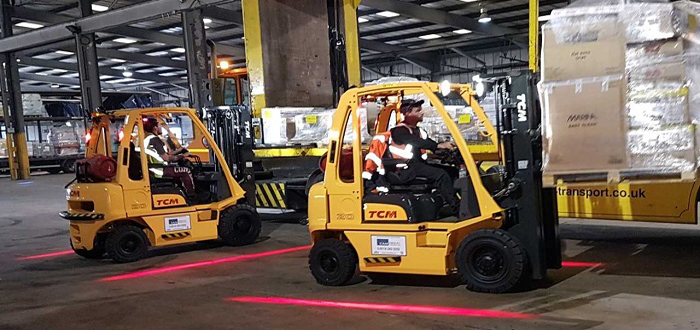 FUEL SAVINGS AND SMARTER WORKING FOR FORKLIFT FLEET.
Managers at George Walker Transport have been working with engineers at Sheffield-based CAM Forklift Trucks developing new techniques to improve the crucial role forklifts play in their intensive materials handling operation as part of a productivity and £1/2 million cost reduction platform.
Plans to up-date their forklift fleet began back in 2016 with 20 new forklifts and 20 powered pallet trucks that comprise the core of the company's materials handling taskforce. The business is now scheduling delivery of its next 13 TCM trucks. These have 2.0-ton lift capacity with heavy duty brakes and rugged construction designed to take on an intense but mixed range of duties. Their operation in Morley, near Leeds facilitates the movement of around 4,500 pallets every 24hours.
The decision to choose TCM gas-fuelled trucks was supported by complete driver engagement to test out their performance, comfort and safety features.