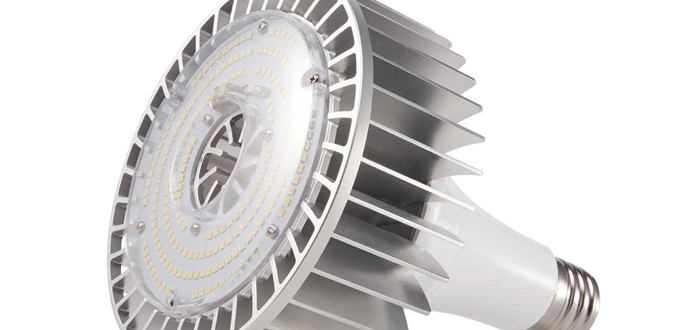 Foreverlamp® launches new Industrial J Series featuring a Fan-less Cooling System for Harsh Environments.
Foreverlamp™, an innovator in retrofit lamp design that introduced the industry's first 1000W plug-n-play replacement lamp for Metal Halide lamps, has expanded its award-winning LED Lamp Series with a new Industrial replacement lamp. The new J Series provides a powerful LED replacement for up to 400W MH lamps that operate in dusty and harsh industrial environments.
The super high efficiency replacement lamp delivers up to 21,000 lumens at 400 watts and is designed specifically to replace 400W, 350W, 320W, 250W and 175W MH Lamps. The J Series saves over 200 Watts Per Socket when operated on a 400W magnetic ballast and is available in two options – Uplight / Downlight and Downlight only. The rugged, low-profile design features a patented fan-less cooling system that helps the lamp maintain a consistent temperature for applications where oil, dust and dampness are an issue for lighting fixtures. Each lamp is designed to work with the existing magnetic ballast and sockets and doesn't require any re-wiring, reconfiguration and/ or contractors to install. As with all Foreverlamp LED replacement lamps, the innovative design allows for a quick and easy plug-n-play installation and instant on/off, eliminating arc tube re-strike timeout.
Foreverlamp's line of LED high-bay fixtures and award-winning LED Plug and Play High-Bay LED Lamp Series deliver value, performance, and over 50% savings on energy costs compared to MH and HPS systems. The full offering can be seen at www.foreverlamp.com