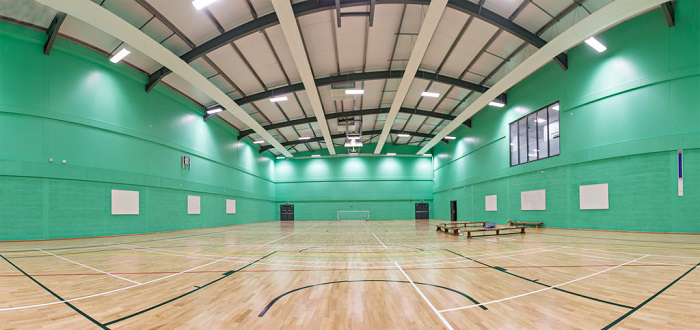 Dextra Lighting achieves excellent results for Cheadle and Marple College's sustainable development plans.
The Cheadle and Marple College Network is formed by a partnership of two firmly established sixth form colleges serving the Stockport area for over fifty years. The colleges have a combined student population of approximately 2000 between the ages 16 and 19.
Described by OFSTED as having "a dynamic and relentless culture of improvement", the college network recently launched a multi-million pound redevelopment programme to improve its estate, involving both the construction of brand-new learning spaces and refurbishment of existing facilities.
As part of its pledge to better serve the community, the plan was aimed not only at offering a state-of-the-art learning environment for its students but to ensure that both its Buxton Lane and Marple campuses would serve as examples of sustainable practice.
In partnership with appointed consultants DDA and electrical installers, Performance Electricals of Stockport, Dextra Lighting was chosen over competitors to collaborate in the project as the sole lighting provider due to its vast manufacturing capabilities, flexible and fast lead and delivery times, comprehensive range of energy-saving LED products and controls and its extensive portfolio of success in the education sector.
LED lighting is now widely acknowledged as the most immediate and effective measure to upgrade educational facilities whilst making them cheaper and greener to run. Compared to conventional lighting, high-quality LED systems offer a number of benefits that allow institutions to aim higher in the provision of better education by unlocking financial opportunities previously unavailable.
Energy-efficiency is the primary advantage of converting to LED. As electricity is more expensive than any fossil fuel used to power a building, lighting amounts to an average of 20% of a typical college's utility bill when it only represents 8% of actual energy usage. This gap between energy use and cost makes lighting a key area to focus on when trying to implement a sustainable management framework. With this in mind, LED solutions can offer average savings of 60% over HID and fluorescent lighting with sensor controls (daylight regulation and occupancy detection) reducing energy consumption further by a potential 30% depending on the application.
The majority Dextra Group luminaires are manufactured with the latest LM80-verified 3535 Lumileds LED offering 90% lumen maintenance for the first 60,000 hours of operation. In contrast to HID or fluorescent sources, these high-quality sources keep their intended brightness for longer and are more durable to physical stresses in the environment, allowing installations to cut maintenance costs by avoiding frequent lamp changes. By using only the best European-made drivers, Dextra Lighting solutions offer added reliability and require less servicing and repairs throughout the products' lifetime.
The combined energy and maintenance savings offered by LED usually allow the initial cost of a typical installation to be quickly paid back and will continue to free up capital to be invested in other areas of service in the long-term.
Unlike fluorescent lamps, LED sources do not contain hazardous or toxic materials such as mercury, which pose potential health risks if broken on site, or to the environment upon disposal. Replacing damaged LED fixtures on the other hand, is a quick and simple process which does not require extra precautions and will be less damaging to the environment once it reaches the end of its lifetime.
Most of Dextra Lighting's LED products designed with the educational sector in mind, are included in the government's Energy Technology List (ETL); offering institutions eligibility to the Enhanced Capital Allowance (ECS) scheme for 100% tax levy for the first year of purchasing the equipment. By reducing their carbon footprint, schools and colleges can gain access to funding reserved for environmentally conscious renovation projects, and improve their performance on the Carbon Reduction Commitment table for further financial benefits.
Finally, recent developments in LED technology have allowed systems to offer increased light quality to improve student performance. Research has strongly shown that LED systems, which are tuneable to mimic natural light more effectively and offer higher colour rendition and uniformity of light than conventional lighting, help create a more stimulating and productive learning environment for students and teachers alike as they can be aligned to the occupants' circadian rhythm throughout the day. Overall, using LED systems with intelligent controls has been closely correlated to higher concentration and task focus amongst pupils.
"Most of Dextra Lighting's LED products designed with the educational sector in mind, are included in the government's Energy Technology List (ETL); offering institutions eligibility to the Enhanced Capital Allowance (ECS) scheme for 100% tax levy for the first year of purchasing the equipment."
THE BRIEF
Lighting systems were to be installed in the new and refurbished buildings across the Buxton Lane and Marple Campuses. Lighting solutions were to be supplied in various locations including: classrooms, science and art labs, refectory, library, circulation areas and a brand-new sports hall.
Working closely with DDA building consultants and Performance Electrical Ltd, each installation would be designed to abide to statuary regulations, comply with environmental standards and policy and integrate seamlessly into the buildings' architecture and new décor.
THE PRODUCTS
Graduate Recessed LED – Science Labs & Classrooms
Purposely built for educational facilities, the Graduate Recessed LED was selected for the science labs and various classrooms in both colleges. The luminaire's familiar yet attractive direct/indirect gull-wing aesthetic was chosen to match the style of the new rooms and provided the appropriate task illumination for each area.
From a range of customisable options, the Graduate LED Recessed was supplied in a BSEN 12464 glare compliant 2861llm output version, which allowed installations to achieve the 500lux recommended for science experiments and tasks requiring higher visibility and 300lux for more ordinary classroom activities. These light levels were achieved whilst keeping glare below the required 3000 candela limitation and UGR 19 for a safe and comfortable learning environment – especially where higher risk science equipment is concerned.
By combining its pre-coat aluminium white gull-wing reflectors and prismatic opal extruded diffuser with the latest Lumileds LEDs, the luminaire offers a superior quality of light, high light output ratio (LOR) and enhanced uniformity at an excellent efficiency of 110 luminaire-lumens-per-circuit watt (this applies for 2861llm versions).
Available in various installation formats and body sizes, luminaires were supplied in 600 x 600mm lay-in versions to suit the renovated ceiling grid system.
The versatile Graduate LED range of luminaires also offers compatibility to all mainstream digital and analogue dimming controls and now includes a White Tuneable function to adjust the colour temperature to a variety of tasks and activities, boost productivity by aiding concentration, or to create more inviting and comfortable atmospheres. A 25 litre-per-second air handling option is also available with this range to allow luminaires to integrate with the existing HVAC systems; avoiding ulterior modifications to the building's infrastructure for additional ventilation.
Modled Slim / Solution Flush T5 – Refectory & circulation areas
The versatile MODLED Slim recessed luminaire has received cross-sector popularity by offering premium performance, energy-efficiency, aesthetic appeal and low-maintenance benefits in a single package.
Featuring a highly efficient diffuser panel with 93% transmission and the latest Lumileds LEDs, the MODLED Slim offers a high LOR of 85% and operates at an excellent efficiency of up to 139Llm/w. LED technology has allowed this range to be manufactured in a wider selection of output packages which are distributed across three different body sizes. Available in outputs from 1250llm to as high as 12160llm, luminaires can be configured in the most efficient layout possible to achieve optimal light levels with fewer fittings, or to adapt to existing connection points for retrofits.
The MODLED Slim was chosen to act as general lighting in the refectory and adjoining open plan seating area for socialising and informal study. Luminaires were supplied in 3484llm outputs in both 600 x 600mm and 1200 x 600mm sizes to achieve the CIBSE recommended 200 to 300 Lux levels and uniformity for canteen areas. A lay-in version (pull-up also available) with relevant installation kit was used for compatibility into the suspended ceiling grid system. For further flexibility, BSEN 12464 glare compliant variants can be supplied for areas where computers or other VDUs are in use.
The MODLED Slim is available in all mainstream dimming functions (DSI, DALI, Analogue 1 – 10v and Switch Dimming) and is compatible with either integral or standalone sensors from Dexsor's Reacta range to maximise lighting control and energy savings.
Continuous runs of the Solution Flush energy-efficient T5 luminaire were installed in the surrounding areas of the canteen, supporting the primary lighting for maximum visual comfort and clarity by eliminating any unwanted shadows or dark areas. The luminaires also acted as a decorative feature, echoing the edges of the room for a contemporary minimalist aesthetic.
Modled Suspended / Protec LED – Library & WC Facilities
The ultra-versatile Protec LED downlight was installed within two large custom-made plasterboard panels suspended above clusters of desks in the library. The panels were framed by continuous runs of 1200 x 300mm MODLED Suspended luminaries to boost light levels and widen overall coverage whilst adding an appealing decorative touch.
The Protec LED is customisable with a wide range of options including a number of lumen outputs, specular and semi-specular reflectors, colour attachments and custom bezels, giving designers increased flexibility to tailor schemes to a variety of needs and specifications. Reflectors and attachments are interchangeable and can be easily removed and replaced post-installation to adapt to changes in layout, colour branding schemes and décor.
Demonstrating the adaptability of this range, a BSEN 12464 glare compliant version featuring a micro-prism specular diffuser was supplied to provide a comfortable and controlled light for students reading, bringing laptops or using the in-house IT facilities for prolonged periods of time, whilst luminaires in the bathrooms were supplied with IP44 covers which were silicone-sealed to offer full IP65 protection against water, dust and dirt ingress.
Beyond versatility and attractive contemporary design, the luminaire has grown in popularity due to its premium performance, by combining high-efficiency aluminium reflectors with the latest Lumileds LEDs and Philips or Tridonic drivers to offer LORs in excess of 90% whilst consuming up to 70% less energy than fluorescent or HID equivalents. These high-quality components and efficient optical design will allow the college network to reap the benefits of shorter payback periods whilst lowering its carbon emissions. Different colour temperatures and colour rendering options are also available to ensure that the optimal light quality is achieved for both the practical and aesthetic purposes of the application.
The Protec LED's versatility extends right through to installation, with a practical four-point self-clamping bracket significantly reducing fitting times whilst offering compatibility for a range of ceiling types and surfaces, including plasterboard, mineral fibre and metal tile in thicknesses ranging between 3mm and 30mm. Custom bezels are available on request to ensure suitability for existing ceiling cut outs.
The luminaire's dimmable Tridonic drivers and Lumileds LEDs offer compatibility with DALI and Touch Dim dimming to be used in conjunction with standalone sensors and a range of remote or manual switch controls.
Prosport LED / Arcus LED – Sports Hall & Gym
Specifically developed for modern sports environments, the Prosport LED utilises high-performance LED sources and optics to optimise lighting conditions for a range of indoor sports whilst keeping energy and maintenance costs to a minimum. The versatile luminaire offers a choice of distributions and output packages as high as 30,601llm across two different sizes, ensuring that the recommended lux levels, uniformity ratios and glare control are tailored to each sporting activity. By ensuring a superior quality of light, the luminaire can maximise visibility of fast moving objects in the field of play to increase safety and improve player experience overall.
For the sports hall, a 21,288llm version of the luminaire amply achieved lux levels within the 500 to 750 parameter recommended by Sport's England for recreational or school use, whilst economising on the amount of luminaires used. A standard, yet versatile, symmetrical optic was specified to support a wider range of sports including football, basketball and netball. For badminton or tennis applications however, an asymmetrical bracket can be supplied for an angled, glare-free distribution which also avoids balls and shuttlecocks to become lodged behind the luminaire. With no natural light entering the hall, luminaries were also carefully positioned to make the most of wall reflectances, avoid glare and spaced as widely as possible to achieve a bright and even coverage with fewer fittings.
The Prosport LED's robust steel housing and polycarbonate end caps offer suitable protection from ball strikes, and unlike fluorescent or HID luminaires, its LED source eliminates the risk of shattered lamps. This durable construction combined with the long life and low-maintenance benefits of reliable Lumileds LED chips, makes the Prosport LED a hassle-free and sustainable solution for high-level sports environments.
For a cost-effective installation, the Prosport was supplied with a zintec spine to simplify mounting at inconveniently high ceilings and was prewired to the required specifications. This helped accelerate the fitting process, avoiding prolonged disruptions to the normal functioning of the hall.
With a choice of DALI or Analogue 1 – 10v dimming options, the luminaire offers the flexibility to adjust light levels for different sports as well as generate further savings with a choice of sensors from Dexsor's Reacta range.
Other products used in this project include: the MODLED Surface luminaire which was surface mounted in corridors with solid ceilings for premium performance, efficiency and aesthetic appeal; the highly-efficient Ecopack LED batten luminaire for storage areas; the Discalo LED offering the energy-efficiency and low-maintenance benefits of LED combined with an attractive modern design was wall-mounted in the stairwells and finally the ultra-efficient IP65-rated Hydra LED batten luminaire for storage areas offering LORs in excess of 90%, up to 140 llm/w efficiency and compliant tooled access.
Emergency
Most luminaires featured in this project are available with integral three-hour emergency lighting in either standard, self-test or auto-test variants. With larger numbers of luminaires involved, automatic emergency testing functions become hugely cost-effective, saving the time consuming and laborious inconvenience of manually testing and servicing each luminaire individually.
Whether it's an LED indicator or an dedicated digital interface signaling faults, battery life or general status, automatic emergency testing systems allow entire networks of luminaires to be kept in line with BSEN 5266-1 regulations with precision and ease. These are more cost-effective in the long-term because maintenance becomes targeted, organised and kept to a minimum.
In addition to integral emergency lighting, the low-maintenance and efficient Hanging Blade LED provided clear emergency signage to all exits in the building in accordance to safety regulations.