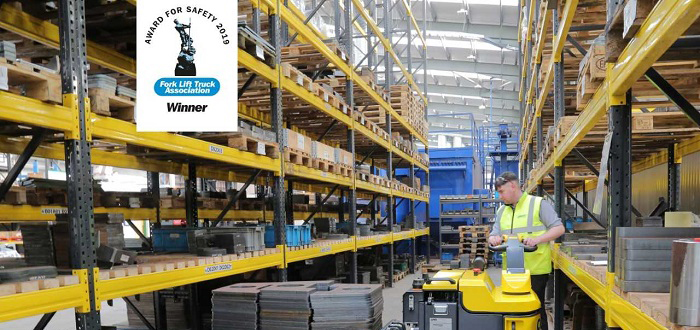 Combi-PPT wins FLTA Safety Award
Combilift added yet another industry award to its ever growing tally when its Combi-PPT model won the Safety Category of the FLTA Awards for Excellence 2019 on March 30th.
The Combi-PPT is a high performance pedestrian operated powered pallet truck, the first model of which was designed following a very specific request from a Combilift customer wanting to enhance operational safety and material flow in its manufacturing facilities. This proved to be so successful that the Combi-PPT was put into serial production last year and models with capacities from 3,000kg up to 16,000kg are now available.
Its design and features such as AC powered drive, steer and lifting technology enable very large and bulky products to be manoeuvred with ease in confined spaces without the use of a ride-on forklift. Above all, it can also do this whilst ensuring maximum safety when working in areas where other personnel may be present, in busy production plants for example, thanks to Combilift's unique, patented multi-position tiller arm. This incorporates tiller and operator offset position with the touch of a button and enables excellent visibility from the side of the truck, also reducing any crush risk to the operator when working in tight spaces. According to the FLTA "the jury was impressed by the PPT's large capacity and its potential to replace counterbalance trucks, improving safety in pedestrian areas."
Mark Whyte, Combilift's R&D manager, accepted the "Archie" trophy from Andrea Maneti of the category sponsor Trelleborg. Combilift's MD Martin McVicar commented: "We have won a number of awards from the FLTA over the years for innovation, design achievement, ergonomics as well as the unique Winner of Winners Gold Award in 2012. In the 25th year of the awards we are proud to have been recognised for our ongoing commitment to safer materials handing with the introduction of the Combi-PPT into our product range."