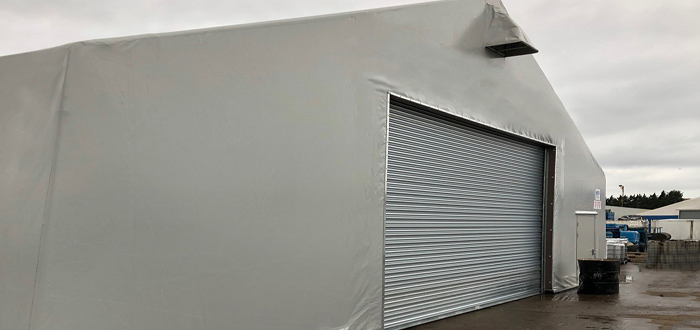 25 year old Rubb Shelter is brought back to life for Barrier Fire Protection
Rubb Buildings Ltd have a long-standing working relationship with local North East company Barrier Group. Their latest request was for Rubb to support them with a new bespoke oil and gas project for their Fire Protection division.

Barrier Fire Protection was formed in 1990, to carry out passive fire protection (PFP) to the BP Miller Oil Platform for the North Sea. Since then, Barrier has gone on to apply thousands of tons of epoxy intumescent coatings to structural steel, vessels and pipework across many industrial sectors.

As part of this oil and gas project Barrier Fire Protection were using three different Rubb structures to support the manufacturing, painting and storage of equipment. To streamline the process further and to create extra storage space away from manufacturing a fourth Rubb shelter was needed.
With Rubb being a well-known shelter provider stemming back to 1977, there are now many Rubb shelters advertised on the used market. This is a credit to their quality and galvanised steel framework. Barrier acquired a used THA shelter measuring 12m wide x 18m long. They needed Rubb to install the shelter and recover it with new fabric cladding, bring it back to life, in like new condition. The shelter includes a 5.5m wide x 4.2m high roller shutter door and a standard fire access door. The shelter was constructed quickly by the Rubb team and was branded with a large Barrier Fire Protection logo.
Ken McLean, BFP Project Engineer commented, "we needed extra storage and production space in a hurry to meet our Client's programme. By obtaining a used Rubb shelter on the 2nd hand market and having it refurbished and erected by Rubb, we successfully achieved the required project turnaround time and ended up with an excellent "as new" additional facility"
The Rubb THA standard shelter range is made from a hot dip galvanized steel framework and PVC fabric cladding. The framework is galvanized to protect it against corrosion, creating a lifespan of at least 35 years. The covering membrane is fabricated from flame retardant, high tenacity PVC polyester fabric, which is tensioned over the frame. The white translucent roof creates a naturally bright internal working environment.