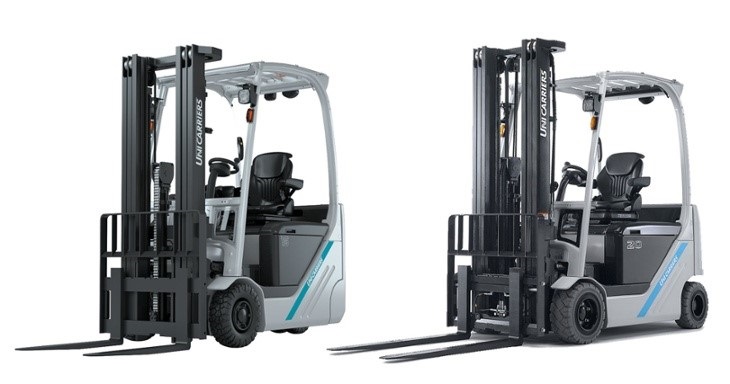 UniCarriers electric TX series has ten new models .
UniCarriers has revised its beloved product family of three and four-wheeled electric counterbalance forklift trucks: from May 2017 there will be a total of ten new TX models available with maximum lift capacities from 1.25 to 2 tonnes. The series is characterised by high energy efficiency. With energy consumption of 4.2kWh/h, TX is one of the most economical electric counterbalance trucks currently on the market. Additionally, the series boasts a large number of safety and ergonomic features.
With the TX electric truck, UniCarriers offers a multifunctional series for indoor and outdoor use. The revised product family comprises seven models with three wheels (TX3) and three models with four wheels (TX4). The TX4 is now available in two chassis lengths, and the TX3 in three, to fit perfectly to all kind of applications. All models are designed for lifting heights of up to 7,000mm and can reach a maximum speed of 16km/h (TX3) or 17km/h (TX4).
The new TX series differs considerably from its predecessor series in terms of technology. Significant innovations include electric steering with a steer-by-wire-system, a fully automatic parking brake, and the efficient high pressure hydraulic system. Those technologies do not only improve energy consumption but also safety and ergonomics for operator, as the steer-by-wire provides force feedback to the operator for an intuitive safe operation. The maintenance free brakes, with improved energy regeneration and special low friction tyres made for intensive usage, help reduce rolling resistance. Put together, the optimisations make for a noticeable increase in efficiency: with average energy consumption of 4.2 kWh/h (on the 1.6 tonne model), the TX3 is the most economical vehicle in its class. There are improvements when it comes to noise levels too. The noise volume when handling loads has sunk by 8.2 dB to 63.3 dB compared to the former model, enabling the quietest operation of any comparable counterbalance forklift truck.
Clear view of fork and load
The chassis of the TX has been tailored to the driver with precision and offers the best ergonomic design and comfort. The special design of the mast and overhead guard with slim pillars and bars corresponds to the UniCarriers ProVision Concept and highly optimises the visibility. The instrument panel has been reduced as much as possible to increase visibility of the fork tips. Parts of the operating panel have been made transparent so the operator can gain view of load corners at the fork's heel. At the same time, the seat, pedals and slim steering column have been arranged to give even taller drivers lots of legroom. Getting in and out is also easier thanks to the new step, which at 415mm is particularly low.
Top safety
The comprehensive TX safety package, included as standard, makes use of 16 functions. The Stability Support System (S3) ensures safe operation for all driving and lifting operations. The technology continuously measures speed, steering angle, mast movement, lift height and load weight, and intervenes as required. This means, for example, that the driving speed can be adapted to the load and lift height, or automatically reduced when turning. An interlock control system halts truck operation as soon as the operator leaves his/her seat. Access control is provided for by PIN codes which unlock a personal user profile for every driver.