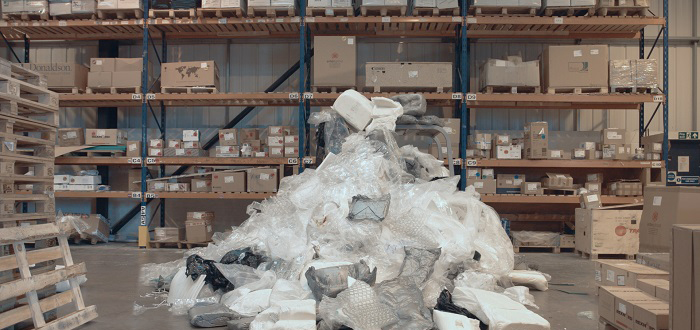 UK based supply chain specialist moves to protect Africa from plastic pollution.
Leading MRO logistics specialist Entec International has implemented a zero plastic packaging policy at its Midlands based warehouse in Halesowen, stripping out all plastic packaging from incoming products and replacing with biodegradable alternatives before shipping overseas to clients.
A high percentage of the firm's business serving blue-chip companies is conducted in Africa, which according to Pollution & Waste Management magazine, has the 'dubious honour of being the second most polluted continent on the planet', largely due to inadequate waste management infrastructure.
Consequently, Entec International has embraced this year's World Environment Day theme of 'Beat Plastic Pollution' and committed to remove and recycle all plastic waste from incoming packaging. The company has invested in new biodegradable shrink wrapping and box shredding machinery to enable shredded cardboard to replace the plastic packing around products.
Managing director of Entec, Chris Syner comments, "We have been doing business in Africa for almost 30 years and most of the plastic pollution comes from outside the continent, so we felt that this was something we could do that is ethically and environmentally responsible in any case, but that also puts something back into a continent in which we've built a very successful business."
He adds, "In our first month, we have removed and recycled 8.5 CBM of assorted plastic waste that serves no purpose other than to fill a void in a package and protect the enclosed parts. Over a year, we will be removing the equivalent of 3.65 20ft shipping containers of plastic pollution – over five years, 18.25 containers. Apart from investment in new machinery and recycling, the cost to us is time, effort and energy, which we all deem well worth it!"
Eighty percent of the continent's GDP is concentrated in just 11 African countries, including Nigeria and Ghana, where Entec operate – all of which are have prominent coastlines and rivers likely to transport a large quantity of land-based waste, including plastic pollution, as they make their way to the ocean.
While cardboard biodegrades in 8 weeks, Styrofoam takes 60 years with some types of plastic taking between 400 – 10,000 years.