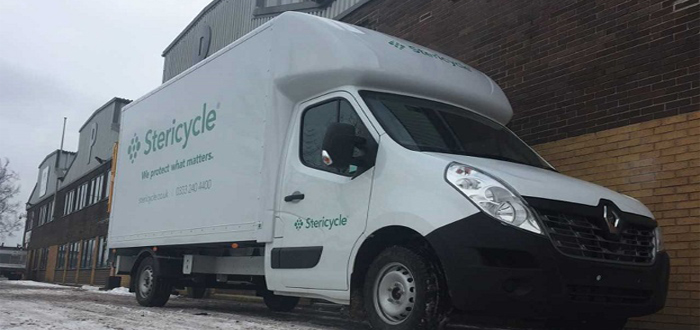 Stericycle selects SURECAM connected vehicle camera to boost safety and cut fleet costs.
Stericycle, a global provider of safe, complaint and sustainable waste management solutions, has adopted a connected vehicle camera solution from Intelligent Telematics to target improvements in road safety, while reducing fuel, wear and tear, and insurance costs. The company has installed the SureCam devices in more than 100 commercial vehicles as part of its joined-up approach to risk management, duty of care, fleet compliance and claims handling.
"As a socially responsible business our overriding objective is to improve the way our fleet drives to achieve the highest levels of road safety and reduce environmental impact," explains Lee Jackson, Group Head of Fleet at Stericycle. "We are already using a vehicle tracking system for driver behaviour monitoring, but the connected cameras will provide added insight into the circumstances of any incident, enabling us to better understand driver performance and the risks facing our fleet."
The SureCam connected vehicle cameras will provide immediate access to HD video of any road collision, near miss or harsh driving event. The footage will be used to empower line managers to identify areas of ongoing concern and engage directly with drivers, with any recurring issues escalated to an internal team of assessors. In addition, a league table will rank the best and worst performing drivers as part of Stericycle's targeted training programme.
Stericycle will also use the connected cameras to support its claims management process, which has been developed to achieve increased brand protection and reduce the financial impact of motor insurance claims. Liability will now be reviewed within minutes of an incident occurring using video footage and supporting data, allowing an early decision on whether to settle or defend a claim. Where required, repairs and hire arrangements will be immediately organised, so the claims lifecycle costs can be kept to a minimum.
"We wanted to take a structured approach to ensure we are best placed to defend claims or quickly respond where a claim needs to be settled. Working closely with our external partners Sopp+Sopp and Plexus Law, we will use the connected cameras to take advantage of First Notification of Loss and have better control over our claims management process," says Lee Jackson.
Sam Footer, Partnership and Marketing Director at Intelligent Telematics commented: "Our proven connected vehicle cameras have been selected by Stericycle as part of its commitment to instil an appropriate safety culture and support an effective insurance claims management process. They are the latest organisation to recognise the value our solutions can deliver by helping to operate in a profitable, compliant and socially responsible way."
Intelligent Telematics' SureCam connected devices are the leading camera solutions for vehicle operations, providing increased protection against fraudulent insurance claims, false driving allegations and disputed liability. They use the most sophisticated mobile technology so that HD footage of any incidents are captured and automatically transmitted within moments of it happening. Unlike other systems in the marketplace, the videos and supporting data are uploaded to a secure server network with no user intervention required, making them the only truly effective vehicle cameras for First Notification of Loss (FNOL).