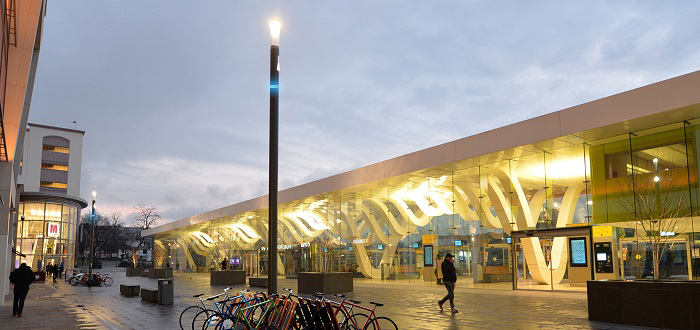 Schréder UK launches Shuffle Cycle parking solution.
Schréder, the global leader in LED lighting solutions, today announces the Shuffle Cycle: a CCTV-protected, space-efficient parking solution for cyclists.
According to Transport for London's (TfL) recent Travel in London report, consumers are capitalising on the health benefits and cost-effectiveness of cycling with a 63 per cent increase in cycling traffic since 2005 .
However, cycling in these areas is often restricted by space, security and convenience. There is currently a poor ecosystem in place to support and encourage cyclists, with 297,000 reported cases of bicycle theft in England and Wales in 2016.
Working in collaboration with H-B Designs, Schréder UK has created a solution. The Shuffle Cycle has three key features: crime-reducing CCTV cameras; an LED light ring to indicate available spaces from a distance; and secure cycle docking stations — all in a single energy-saving LED lighting column.
Additionally, the Shuffle Cycle comes with an in-built PA system, Wi-Fi connectivity and electric charging ports.
Embedded with H-B Designs' patented 'SOFTDOCK' technology, bikes are protected from damage with a protective rubber sleeve and the parking system can be tailored to fit any available space using single or double-sided docking. Its retracting locking handle system secures bikes fully with only one lock, resulting in safe, organised parking.
Adam Rice, marketing manager at Schréder UK comments: "Local authorities have long been challenged to provide a greater sense of security to the growing cycling community. By working in partnership with H-B Designs, the Shuffle Cycle combines the most advanced LED lighting technology with a unique, space-efficient parking solution to provide a safe outdoor space for cyclists to use.
"The Shuffle Cycle pushes the boundaries of lighting design and offers urban planners a smart, cost-effective solution to significantly improve local cycling infrastructure and the surrounding lighting network."