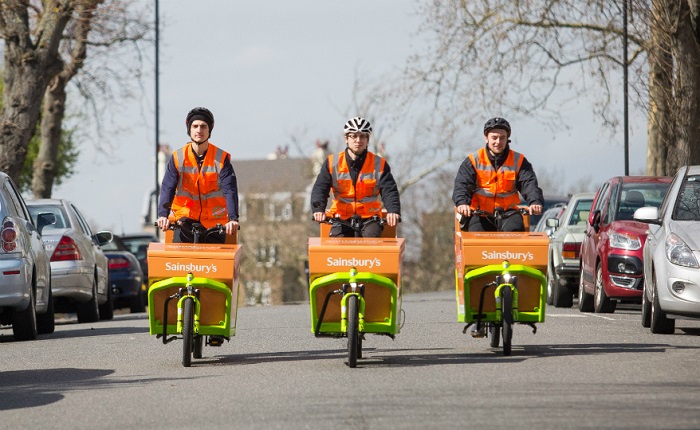 Sainsbury's is setting the wheels in motion on an innovative new trial – the UK's first grocery delivery service by electric cargo bike
From this week, Sainsbury's is setting the wheels in motion on an innovative new trial – the UK's first grocery delivery service by electric cargo bike.
A fleet of five zero emission bikes will be setting off across South London from the Streatham Common store, delivering up to 100 orders a day to local customers who've shopped through the retailer's groceries online website. The trial demonstrates Sainsbury's mission to deliver for its customers whenever and wherever they do their shopping.
Sainsbury's is launching the trial with e-cargobikes.com who will provide the purpose-built bikes, which have enough capacity to carry several customer orders at a time.
The trial will test whether delivering groceries by electric cargo bike could be a more efficient way of getting groceries to customers living in busy cities. The bikes will be able to make the most of cycle lanes in order to avoid traffic, especially during peak delivery hours such as midweek mornings and park closer to customers' homes than is often possible for traditional delivery vans.
As well as making sure customers get their shopping on time, the electric cargo bikes will also be beneficial to the environment, producing zero emissions and no noise pollution.
Once customers have placed their online orders, Sainsbury's will use routing technology to determine which orders are delivered by a traditional van or by electric cargo bike. The order will then be delivered during the customer's chosen time slot by Sainsbury's branded bikes and riders.
If successful, the trial could be rolled out to further areas across the UK.
Clodagh Moriarty, Director of Online at Sainsbury's, said: "We're delighted to be the first supermarket to trial grocery deliveries by electric cargo bikes. We're always looking for new ways to make sure we can best serve our customers and this trial will help us explore whether there might be a more flexible way to deliver Sainsbury's groceries to those who live in busy cities."
James FitzGerald, MD of e-cargobikes.com, said: "We're thrilled to be working with Sainsbury's on this trial. By taking existing e-cargobike technology and putting it to the test in a new market, we're reimagining grocery deliveries and exploring a more sustainable transport system."
Bobby Shome, Global Business Development Director, Centiro:
"It's great to see a retailer like Sainsbury's embracing more sustainable ways to provide a delivery service to customers. This approach is particularly vital in London, where the Mayor recently announced his Transport Strategy for a city that is battling against rising traffic levels. Retailers using electric bicycle deliveries will begin to move vehicles off the road, and could represent a tactic to make the Mayor's goal of a 10% reduction in morning peak lorry and van journeys a reality.
"Replacing lorries and vans with electric bikes represents a step in the right direction, and other retailers should be looking to follow suit and reduce traffic levels, where possible. Of course, there is no need for retailers to plough a lonely path in their drives towards sustainable deliveries: over the longer-term, a collaborative approach between retailers and their carriers could see these kinds of initiatives come to fruition quicker, and have an even bigger impact, both on the environment and the bottom line."