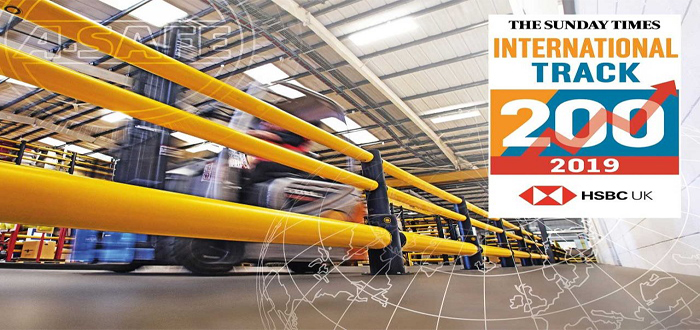 Safety barrier manufacturer and exporter moves up the International Track 200 league table for the second year running
A-SAFE has made the HSBC International Track 200 league table for the second year running. After achieving 68% average international sales growth over two years, the safety barrier expert achieved place 78, outranking their previous position of 82.
The International Track 200 ranks mid-market companies with the fastest-growing international sales. A-SAFE has been recognised by the Sunday Times for export excellence five years in a row, making the Export Track 100 for SME's in 2017, 2016 and 2015.
The 200 selected companies include a host of renowned British businesses such as Charlotte Tilbury Beauty, BrewDog and Bulk Powers.
Amanda Murphy, Head of Commercial Banking at HSBC said "We at HSBC are delighted to back the Sunday Times International Track 200 again this year. All the businesses it showcases have truly inspiring stories to tell about creativity, resilience and ambition to succeed".
A-SAFE's position in the league table comes at an exciting time for the company, who have recently achieved the Queen's Award for Enterprise in the International Trade Category. The award recognises A-SAFE's outstanding achievement in export and is due to be formally presented to the company in March.
2018 was another year of innovation for A-SAFE, with a host of new products contributing to their continued international expansion. The latest developments include a new Dock Gate range, Alarm Bar, Sign Cap and Corner Guard, all scientifically engineered to solve customer problems and drive the global standard.
James Smith, A-SAFE's Co-owner and Director said "We are extremely proud to be listed in the Sunday Times Track 200 for the second year running, along with achieving the prestigious Queen's Award for International Trade. We're exporting more than ever, with 15 global subsidiaries distributing to six continents. We will continue to drive the business forward, safeguarding workplaces across the country and around the world".