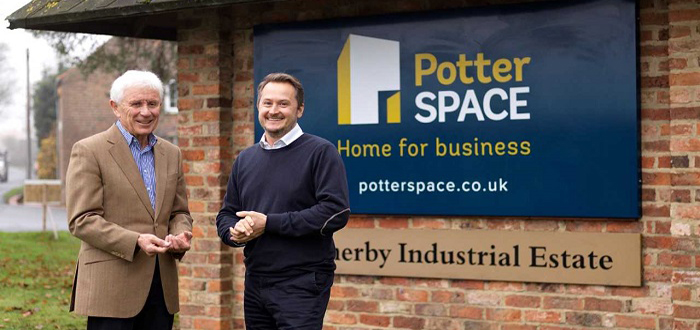 Potter Group announces £25 million investment as it rebrands to reflect new direction
Ripon-based Potter Group, which sold its logistics operations to WH Bowker two years ago, has announced a £25 million investment in the business over the next five years and rebranded as Potter Space to better reflect its current business as an owner, developer and operator of commercial business parks across the UK.
Established by Derrick Potter in 1965, the Potter Group started with a single ten ton Bedford truck, carrying bulk grain and fertiliser on local routes. Over the next 50 years it grew its fleet and purchased five strategic distribution hubs throughout the UK, leading to the award of 'Haulier of the Year' in 2015.
At the end of 2016 the family owned business decided to sell the logistics operation and concentrate solely on its business parks in Ripon, Knowsley, Droitwich, Ely and Selby, comprising more than 250 acres and in excess of 1.6m square feet of commercial space.
As the Potter Group has long championed the importance of rail freight, as part of a cohesive, long-term transport strategy, a substantial investment was made at the turn of the century to provide three of the business parks with direct rail links to the main ports and the Channel Tunnel.
Use of the current £25m investment is already having an impact with activity now well underway at each of the developments.
In September it pre-let a speculative 25,000 square foot unit on its A1M50 Industrial and Distribution Park near Ripon, which is a 10-acre extension to its already successful 42-acre Melmerby Industrial Estate. Work has now begun on another speculative 25,000 square foot unit, which is already attracting interest.
In addition, Potter Space is working closely with Selby District Council, following the Government's agreement to invest £9m on new infrastructure at Olympia Park, which includes a new link road to greatly improve the access to Potter Space's facility.
Speaking about the rebrand, which includes a new logo, website and signage for the business parks, executive chairman, Derrick Potter, said,
"I had a wonderful 50 years building the Potter Group into an award-winning logistics company. However, after much deliberation, we made the strategic decision to sell the logistics operation so that we could concentrate all our efforts on developing the business parks.
"The launch of Potter Space is an exciting new chapter in the company's history and I am looking forward to working with the new generation in helping to deliver first class commercial business parks across the country."
Managing director of Potter Space, Matthew Lamb, added,
"We pride ourselves on the ability to move with the times and be flexible, as is evidenced by our transition from a logistics operator into a purely commercial property operator. We have always prided ourselves on developing long-term relationships and we are looking forward to working in partnership with our clients to create the right properties and environments to enable all our businesses to grow together successfully."