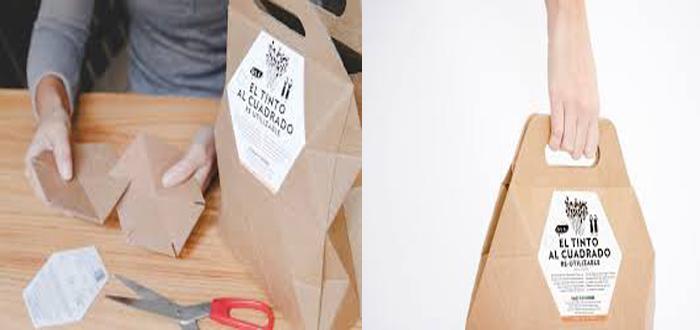 Packaging with a conscience, Versatility meets playful wine.
Wine or wine boxes usually serve a single purpose, i.e. carriage of wine, without the need for an extra carrier bag. So, when NutCreatives, were asked to team up with Viajes de un Catador, they took wine bags to the next level. Nutcreatives' remit was to produce packaging that had a secondary purpose but remained functional whilst also prolonging the usefulness of the cardboard packaging. Viajes -de – un – Catador saw their wine as perfect for informal gatherings: tapas or alfresco parties, thus, they wanted a wine box that could display versatility, robustness and drinkability. The wine was seen as 'playful', therefore, the packaging needed to reflect that too.
Multipurpose packaging isn't common, but a packaging designed, with an aesthetically pleasing diamond scored sidewall presentation, took on a radical approach to packaging functionality. Nutcreatives devised a design with feature triangle folds that could take on a myriad of forms. The packaging components were made up of two sided kraft board (170g) and laminated 3-L foil bags, all sourced from Grafiques APR. The quality-looking packaging also had a handle that enabled the wine box to hang in store for display and as well as being transported with ease. Their wine bag concept didn't just serve beverages, it could also be re-purposed afterwards as safe, eco-friendly folding toys for toddlers. So, when the wine was drunk, instructions could be followed to re-shape the diamond-scored packaging into various forms.
Plus, for every sale of Viajes – de – un – Catador wine boxes, support for intellectually disabled workers could be maintained, by combatting social exclusion through employment in their warehouses. As a company, the community minded and socially responsible Viajes de un catador wine club, had a vision of multi-purpose packaging… and in every sense of the word, NutCreatives, supported them in achieving it.
Being socially responsible and environmentally aware, does not have to be a burden in the packaging world.