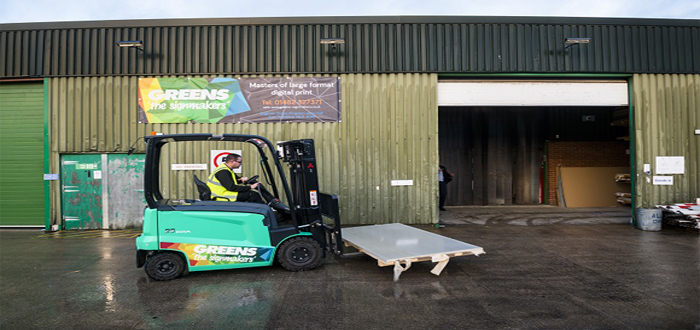 Malcolm West helps Greens the Signmaker work leaner (and cleaner)
National signmaker unlocks the benefits of electric with Mitsubishi EDiA EX
When leading UK signage company Greens the Signmaker was looking to update its sole forklift – a 30-year-old diesel – in its Hull warehouse, the company turned to Mitsubishi Forklift Trucks dealer Malcolm West Forklifts, the truck's supplier and servicing company, for wise advice.
Like Malcolm West, Greens the Signmaker is a proudly Yorkshire firm with a company history stretching back more than half a century. Both firms started small and built themselves up through the decades.
And both recognise the impact that a single piece of equipment can make to an operation. As Malcom West Sales Executive Phil Hawksley says: "Even a one-truck application can benefit from a radical change."
So when Greens the Signmaker decided to retire its trusted 2.5 tonne diesel, the company was keen to take advantage of the benefits of an electric truck with all the latest features.
"There are real advantages for businesses making the switch to electric – especially on a site where a clean environment isn't just desirable – it's essential," explains Phil. "For starters, you eliminate fume issues, but also, the lack of airborne emissions ensures stock and equipment are clean, too.
"The challenge for some companies is that going electric can come with a compromise… in terms of power. We needed to ensure that Greens'next truck would have the same level of power and performance as its diesel because a large part of this truck's work involves shifting heavy pallets of acrylic and aluminium. In addition, we needed to make certain this truck could work both indoors and out."
That may sound a lot to ask of an electric forklift, but after hearing the customer's requirements, Phil knew the perfect truck for the job: the Mitsubishi EDiA EX. The 2.5 tonne electric forklift met all their major requirements; not only is it a tough, clean-running warehouse truck, but this class-leading range breaks new ground with its class-leading weatherproofing, ensuring it will work outdoors in any conditions — overcoming a common Achilles heel of conventional electric forklifts.
Since arriving in August, this new electric forklift has helped to increase productivity for the signage company. While the electric truck's performance easily matches the outgoing diesel, it offers superior manoeuvrability.
This is achieved thanks to the EDiA EX's exceptional turning circle that is so tight that it can turn within its own dimensions… and the Mitsubishi SDS (Sensitive Drive System) which gives operators driver-assist: affording them incredibly precise, predictable performance — vital for drivers carrying such heavy loads.
Green's EDiA EX is green through and through – both in colour and ecological friendliness of design. It reduces the company's carbon footprint each time it is used, when compared to their previous model.
The new EDiA EX has greatly reduced fuel costs, too, as Richard Jackson, Purchasing Manager for Greens explains: "We used to spend around £30 per week on diesel. Now that has gone, we only have to charge the new electric once every two weeks: so our running costs have fallen dramatically.
"Our operators love it, especially its manoeuvrability and the sideshift, which our old truck never had."
With the productivity boost an unexpected bonus for Greens, the impact it's made in such a short space of time has really highlighted the benefits of matching the perfect truck to a setup.