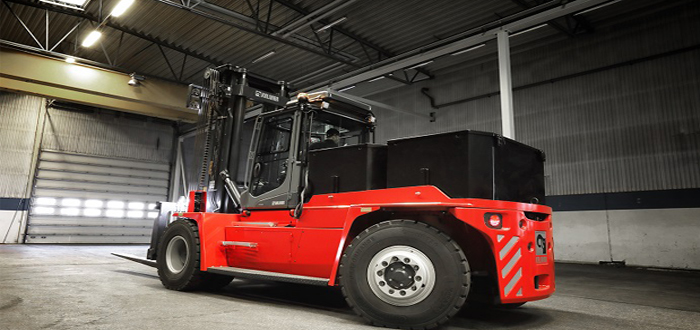 Kalmar unveils again an industry first: Fully electric medium-range forklift.
Kalmar, part of Cargotec, has launched a new range of fully electric forklift trucks in the 9-18 ton range. Powered by emissions-free electric technology, the new machines will support customers in their efforts to reduce the environmental impact of their operations and make Kalmar the first leading manufacturer to offer electric forklifts in this capacity range.
Kalmar electric forklift trucks offer the best of both worlds: the performance of a powerful diesel truck but without the accompanying air emissions, noise and vibration. The operating cost of the new 9-18 ton range is much lower than that of comparable diesel machines, and the payback time can be as short as two years.
The forklifts have sufficient battery capacity to operate for a full eight-hour shift with lead acid batteries and are future-proofed to operate with new lithium-ion battery technology.
Operators can work in peace and comfort inside the ergonomic EGO cabin, which provides maximum visibility and features a driving seat that can be turned 180 degrees to ensure safe operation when handling heavy or bulky loads. The cabin setup can be fine-tuned for optimal operator position, while the highly responsive hydraulic system improves precision and the overall driving experience.
Peter Ivarsson, Director, Forklift Trucks at Kalmar: "At Kalmar, we aim for zero emissions in our offering development across the board. We're proud to be the first leading manufacturer to offer a full range of electric forklift trucks with this level of lifting capacity. Our electric machines offer savings in terms of faster and simpler maintenance, making them a winning concept in the long run. By using an electric forklift instead of a comparable diesel-powered machine, customers can achieve significant reductions in their operating costs. Customers who require trucks with higher lifting capacities can now start reducing their emissions and energy costs at the same time without compromising their operational performance."