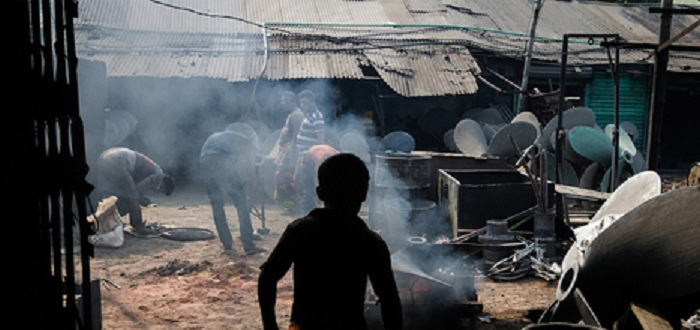 Just 22% of companies address child labour in supply chain.
Only 22% of companies are addressing child labour concerns in the supply chain, while only 23% are actively tackling climate change.
The results of a new survey of business executives makes for sobering reading, given that there are more than 150 million children engaged in child labour around the world, and that scientists are predicting environmental Armageddon if carbon reduction targets are not met.
Only 28% of those surveyed are addressing gender equality in their supply chains, with just 32% actively ensuring they aren't sourcing from areas affected by conflict and violence. Despite this, just 2% of respondents thought their companies had irresponsible supply chains.
The report, authored by the Economist Intelligence Unit for Standard Chartered, interviewed 100 respondents from each of China, Germany, Hong Kong, Italy, Japan, Singapore, South Korea and the US. The majority of respondents came from companies with turnover of more than US$500mn.
The research shows that where companies are addressing supply chain responsibility, they are going for the low-hanging fruit.
60% are tackling workplace safety, which is considered relatively easy to monitor (however, it's obviously a welcome trend, in the wake of disasters such as the Rana Plaza fire in Bangladesh). 55% are looking to waste reduction and recycling, while 50% are addressing working hour limits.
The relative failure to address more pressing and potentially catastrophic concerns speaks to how difficult they are to tackle: eradicating child labour from your supply chain is more costly than ensuring there's a recycling bin in each office. But the message of the report is: there's no excuse.
"Multinational firms are the architects of global supply chains. As such they must deal with the shifting economic, technological, political and social forces and pressures operating on their supply chains, employees, customers and regulators. It is not much of an exaggeration to say that their ability to navigate and respond will be one (perhaps the) decisive factor for the future of a reasonably integrated and sustainable global economy," says Nobel Prize winning economist Michael Spence of the University of New York, in a note accompanying the report.
This sentiment extends to trade finance banks and other financial institutions. Just 27% of executives cited banks as an important influence on their responsible supply chain policy, with just 20% citing stock exchanges (one wonders how many would change their tune if stock prices were concretely affected by irresponsible sourcing).
However, in interviews of influential business figures conducted along with the report, it emerged that banks are considered to have a good deal of potential to either support, incentivise or hamper responsible conduct. "Financial stakeholders are missing opportunities to positively influence supply chain responsibility," the report reads.
The findings tie in with research conducted by Westpac at an event in September 2016. More than 100 people were quizzed at GTR's Asia Trade & Treasury Week in Singapore in September, with just 12% thinking that financial institutions "have the most responsibility in driving sustainable trade".
This was a surprising total, given the amount of focus banks' PR teams and industry bodies put on their sustainability efforts. The message from both pieces of research is clear: banks and companies must do better, when it comes to sustainable supply chain. Read the full report from the EU here
First published at www.gtreview.com