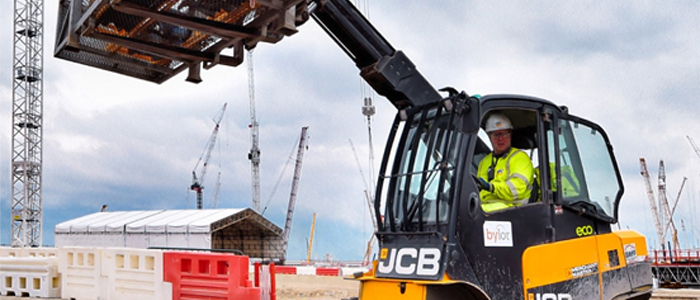 JCB Teletruks contribute to low carbon power generation
Two JCB Teletruk 35D 4×4 telescopic industrial forklifts are providing an essential material handling solution at the UK's largest infrastructure project. Operated by Bylor, a joint venture between French construction company Bouygues Travaux Publics and the UK construction giant Laing O'Rourke, the machines are part of a massive 2,000-strong fleet of equipment working on the Hinkley Point C construction project in Somerset.
Hinkley Point C (HPC) is the first new nuclear power station to be built in the UK for more than 20 years. When the first reactor is commissioned in 2025, the £19.6bn facility will provide secure, low-carbon electricity for 6m homes. As part of a drive towards cleaner energy, the electricity generated by HPC's two nuclear reactors will offset almost 600m tonnes of carbon emissions, during its 60-year lifespan.
Bylor's civil engineering contract calls for the construction of up to 60 major structures on the 40ha site. The project will require a diverse range of machines, including 50 tower cranes and 20 giant crawler cranes. This includes one of the world's largest cranes, a Sarens SGC-250, capable of lifting up to 5,000 tonnes.
While the JCB Teletruks boast a fraction of that lift capacity, they are equally vital to the everyday running of the project. The forklifts are used within the reinforcing steel preparation and fabrication section of the project, where more than 230,000 tonnes of rebar will be received, cut, formed into structures and delivered to various areas of the site over the 10-year project. Further duties include the handling of timber, concrete blocks and site waste using an array of attachments including forks, buckets and a sweeper.
Bylor's general plant manager John McCoppin said: "I have used JCB Teletruks for over ten years – on projects in Asia and now here – and they are a fantastic piece of kit. They have always performed well, have superb power to weight ratio and the forwards reach is an added advantage over traditional counterbalance forklifts."
The Teletruks were supplied by local dealer Holt JCB, as part of a growing fleet of JCB equipment that is working on the contract. This includes a 457 wheeled loader for batching plant work, a 1CX-T tracked compact backhoe loader for confined access, two 714 articulated dump trucks to haul spoil and a number of swivel-tip JCB site dumpers.
Bylor is also operating six JCB Loadall 540-140 telescopic handlers at HPC with a further 3 on order. The telehandlers are used to load specially designed trailers, that carry materials and equipment around the site for the construction teams. The Loadalls then drive to the drop-off location, before safely unloading the trailers and placing the materials.
John McCoppin added: "Our telehandlers do a lot more travel than on a conventional housebuilding site. I've had JCB machines for more than 25 years now, on sites around the world. The JCB telehandler is the market leader, it's the most reliable and the easiest to maintain."
All of the JCB equipment is supplied by Holt JCB which also provides service backup, though Bylor has workshops and a team of engineers on site. Indeed, McCoppin is hoping to send some of the engineers to Holt JCB for specific JCB training.
John McCoppin said: "We procure, maintain and supply the plant to the project. We try to keep ownership of the Loadalls and Teletruks to one operator and I am confident that, with the way we maintain things and the reliability of JCB, these machines will see out this site and then possibly go on to the next one too."
One of the reasons for that confidence in JCB equipment, is the standard fitment of the company's LiveLink telematics system, that provides the plant team with live operational data and tracking from each of the machines. It has been such a success on the Hinkley Point site that Bylor is also considering expanding its use to non-JCB equipment.
John McCoppin said: "With JCB LiveLink we can track each machine and see how it is being used. There are lots of really good things on LiveLink and now we can put the system on other machinery that we have too. We have 200 mobile access platforms here and we are looking at putting LiveLink on those as well."
Bylor has been active on the Hinkley Point C project since 2016 and with the first unit due for commissioning in 2025, there is still plenty of work to complete. JCB machinery plays an important role in the development of the UK's power generation infrastructure, on small job sites in every town and on the biggest projects in the country.