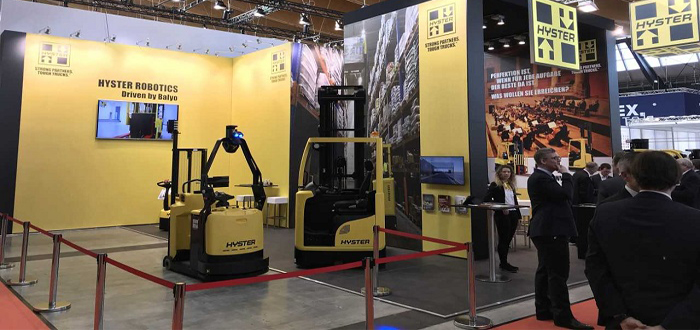 HYSTER EUROPE SHOWCASES INNOVATIVE WAREHOUSE AND LOGISTICS SOLUTIONS AT LOGIMAT 2019
At LogiMAT 2019 Hyster Europe presented 360-degree solutions for warehouse and logistics applications, including its intelligent robotics solutions with the Hyster® LO7.0T tow tractor.
As if moved by magic, the tow tractor advanced on the Hyster stand in Hall 10. "Our robotic trucks use geonavigation technology developed by Balyo, which does not require complex infrastructure changes to automate logistical processes," said Timo Antony, Area Business Director Central Europe, Hyster. "Instead, the trucks work utilising the structural features within the building."
The company also presented the Hyster® J1.6XNT truck with a 48-volt lithium-ion battery, which requires minimal maintenance. Hyster now offers almost all counterbalance lift trucks and warehouse equipment ex works, with lithium-ion batteries.
"Lithium-ion battery-powered trucks are increasingly being used as the power option for demanding applications," said Timo.
In addition, the R1.0E-1.4E Reach Truck with tilting mast was discussed, which is particularly suited for use in confined spaces. The compact chassis and mast, which can be tilted backwards, save valuable centimetres so that the lift truck can reach the top shelves even in narrow aisles. For more information or to find your local Hyster® dealer, visit www.hyster.eu.