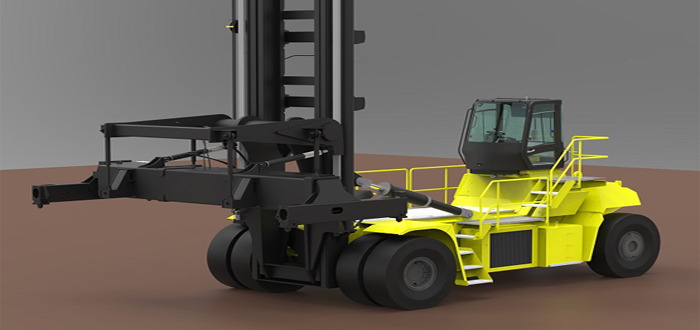 Hyster develops 48 tonne electric truck.
Hyster Europe has revealed more details about its zero-emission, high-capacity, electric trucks, announcing that a 48-tonne capacity Hyster® laden container handling truck powered by electric motors is being developed.
"The first electric Hyster® Big Truck, powered by lithium-ion battery, is at our test facility in Weeze, Germany," reveals Jan-Willem van den Brand, Director Big Truck Product Strategy & Solutions for Hyster. "Using our proven expertise in designing and producing electric trucks, we will shortly be entering the test phase for electrification of a container-handling unit to ensure it can achieve similar performance to Hyster® diesel-powered, container-handling trucks."
"The first trucks are being developed with lithium-ion batteries. However, once fully developed, we aim to offer the truck with a choice of three power options. A combination of a small or medium battery and a Nuvera fuel cell, or it can be powered by battery only," continues van den Brand. "This truck is being developed in response to the evolving needs of customers, who are increasingly demanding zero-emission trucks to support their environmental goals, while still specifying the right truck for their particular application needs."
To achieve the optimal total cost of ownership, the most suitable power option will depend on the requirements of the specific operation. For example, an electric truck with a large battery pack and conventional charging may suit some applications, whereas others may be better suited by a 'truck, with a medium battery pack and the capability for wireless, opportunity charging. Other operations may benefit more from an electric truck with a small battery pack combined with a fuel cell.
Although Hyster can offer lithium-ion (Li-Ion) batteries as a power source on many trucks, Li-Ion power will have more limited use in electrifying container handling trucks. Battery capacity is currently not sufficient for the most intense applications without opportunities to re-charge during the shift.
"This is where fuel cells come in," explains van den Brand. "These innovative Big Trucks are expected to be able to support continuous operation with operator-friendly re-charge or quick H2 (hydrogen fuel) refill options, delivered through our relationship with Nuvera Fuel Cells."
Regardless of power source, the new electric Big Truck offers highly efficient energy recovery thanks to smart system architecture which enables the truck's different systems to run at their optimum performance independently. Patents are pending for these unique, new technologies implemented by Hyster.
More information and developments about electric Hyster® Big Trucks will be revealed when available. www.hyster.eu