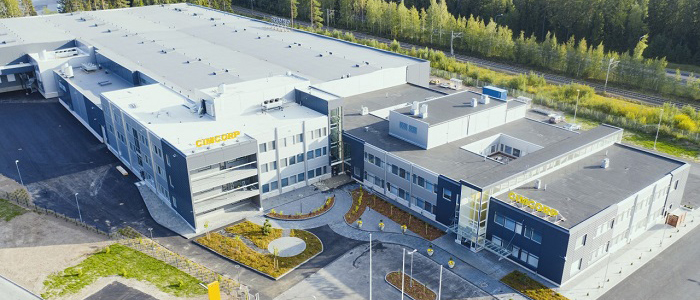 HQ expansion enables business growth for Cimcorp
Cimcorp has almost doubled the building footprint at its Finnish headquarters in order to accommodate continued business growth, higher production capacity
and investment in research and development.
Leading intralogistics automation specialist,Cimcorp, has grown significantly in recent years, and expansion of its headquarters became necessary. Construction work for the new building in Ulvila, Finland, has now been completed and furnishing of the new premises is currently underway.
With the group's revenue more than doubling in the past four years, Cimcorp had outgrown its existing facilities. To respond to this sales growth and the rising number of employees,Cimcorp acquired the plot of land adjacent to its HQ in 2017 and construction of the new production and office facilities began in summer 2018. The expansion secures 5,700m2 of additional factory space and another 2,200m2 of offices over three floors, including additional capacity for research and development. With this extension, production capacity increases by more than 100%.
Growth strategy
Cimcorp's CEO, Masatoshi Wakabayashi, commented, "This investment marks an important step in the execution of our growth strategy. The building expansion will provide us with the much-needed space to continue expanding our product lines and solutions – which are in high demand – to better serve our customers with their intralogisticschallenges. Sales are continuing to rise; in fact, we received our largest ever order in theintralogistics market – worth over 120 million euros – from the Spanish grocery giant,Mercadona, this spring."
Masatoshi Wakabayashi, CEO of Cimcorp Oy
In addition to the new building, Cimcorp is investing in the renovation and refurbishment of its existing facilities. "Our expansion is much more than simply a new building", explained Wakabayashi. "The premises merely facilitate our growth. It is the people who work in the buildings that optimize their potential and make that growth a reality."
Investing in research and development
One of the teams moving into the new building is Cimcorp's research and development (R&D) department, which will benefit from the new meeting rooms for collaboration, as well as quiet areas for individual working – a combination designed to foster innovation. There is a constant need for new solutions in intralogistics automation, as well as to enhance existing products to meet the demands of the rapidly changing business environment in which Cimcorp's customers work. "Our strategic goal is to listen, to learn and to improve," said Wakabayashi. "All our prototypes and developments are made with our customers, and the challenges they are facing, in mind. In order to succeed in this, we recognize that our employees are our most valuable asset."