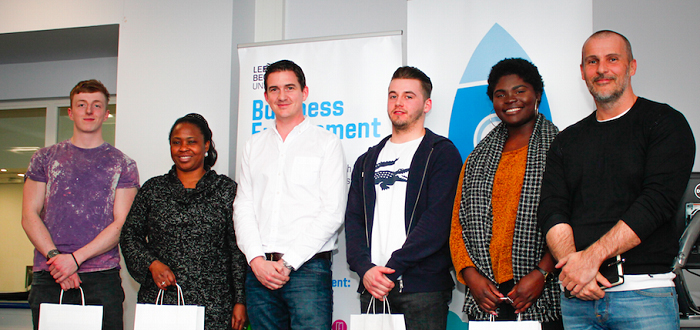 HERMES HACKATHON PROVIDES A GLIMPSE INTO FUTURE INNOVATIONS.
Picture caption: The winning team, Ad Infinitum, collect their prizes from Richard Blown and Chris Ashworth
A unique safe place device and a social media-powered subscription service for fashionistas were among the innovative ideas presented by students at Leeds Beckett University during a Hackathon organised by Hermes, the consumer delivery specialist. Hermes granted five ambitious teams access to its development portal to devise potential future solutions that could make an impact on the retail and home delivery sectors as it looks to encourage applications for roles across IT and innovation.
Hermes, whose UK head office based in Morley and who also has a dedicated Innovation Lab in the centre of Leeds, hosted the event in conjunction with the university to encourage the innovators of tomorrow to create pioneering ideas combining e-commerce and delivery.
The judging panel – including Hermes CIO Chris Ashworth, Hermes client and retailer Missguided's Head of Distribution Karl Harwood, and the university's Head of Subject Paul Doney – awarded first place to team 'Ad Infinitum', who created a unique safe and secure location for parcel deliveries for when people are not at home. The judges explained the team showed great understanding of Hermes' business model and the importance of final mile delivery. Each team member took home a Google Home Mini device.
Second place was awarded to 'The Outfitters', who each claimed £30-worth of Amazon vouchers after their fashion-led social media platform and subscription service earned praise from the judges for their use of big data. 'The Immutable Legends' came third with a universal tracking tool.
Commenting on the day, Chris Ashworth, CIO at Hermes, said: "I am thoroughly impressed by the ambition and innovation on display today that has allowed these talented students to create a number of pioneering ideas in such a short space of time. The retail and home delivery sectors cannot afford to stand still and we must continue to invest heavily to push the boundaries and satisfy the growing demands of the everyday consumer. We're currently recruiting for talented IT professionals to join our team at all levels, and it's great to see local talent that should be nurtured."
Richard Blown, Head of Innovation at Hermes, worked closely with the university to organise the event. He said: "We have a commitment to nurture the innovators and business leaders of tomorrow, who in turn will help to shape the future of retail and logistics for many years to come. These fantastic ideas have undoubtedly given us food for thought and we look forward to exploring how we could further develop them and potentially bring them to market, whilst continuing to offer employment opportunities for graduates."