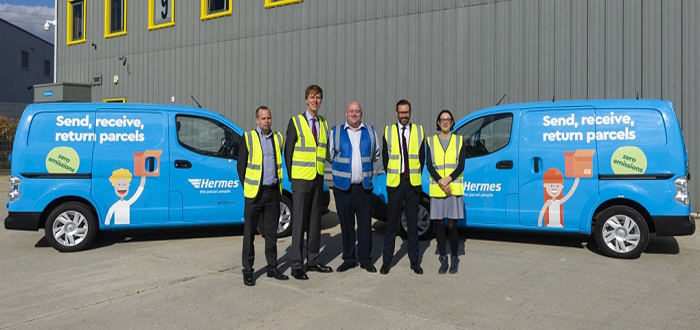 Hermes boosts sustainability credentials as it expands Electric fleet.
BECOMES THE FIRST PARCEL CARRIER TO ORDER 100% RENEWABLE FUEL HGVs AND WORKS WITH TFL TO DELIVER INDUSTRY-LEADING SERVICE LEVELS IN CONGESTION ZONES.
Hermes, the consumer delivery specialist, has placed the largest ever initial order of Compressed Natural Gas (CNG) vehicles in 2018 in the UK, and is the first parcel carrier to have ordered the fleet of HGV tractor units running on 100% renewable bio methane. Hermes is also introducing 32 100% electric vans to service the central London area, inside the low emission zone.
The new electric fleet will be housed at Gemini Park in Beckton, as Hermes has insourced its central London operation to deliver industry-leading service levels in the capital. The Gemini site will serve more than 100 delivery rounds inside the low emission zone. Hermes delivers on average 6,500 parcels per day in London, rising to 11,000 per day during peak.
The CNG for 30 new Iveco HGV tractor units provided by Cartwright Group will be supplied by CNG Fuels, the only UK supplier of Renewable Transport Fuel Obligation (RTFO) approved bio methane. Each of these vehicles is expected to reduce the Hermes fleet's Green House Gas emissions by more than 80% vs. a comparable Diesel vehicle, resulting in a staggering reduction of 4,500 tons of CO2 across the 30 CNG vehicle fleet per year.
The tractor units were introduced following a 6 month trial and will be based at the Hermes Super hub in Rugby, which is near to the CNG refuelling station. Hermes is working towards reducing CO2 emissions by 50% by 2020.  The addition of CNG and electric vehicles to the fleet will move Hermes closer to this target.
Martijn de Lange, CEO of Hermes UK, said: "We're proud of our strides forward in sustainability as we become the first parcel carrier to invest in bio fuels for our fleet. This, plus the additional investment in our electric vehicles, will not only support our clients in achieving their sustainability goals, but also ultimately benefit people across the UK as we all look to reduce our carbon footprint. As a parcel carrier delivering within central London, we are committed to helping improve air quality in the capital and supporting London on its path to a zero emission future, so we look forward to continuing to collaborate with Transport for London."
Alex Williams, TfL's Director of City Planning, said: "London's toxic air is a public health crisis that affects everyone, which is why we're doing all we can to tackle it.
"We are delighted that Hermes has taken action to reduce emissions from their fleet, in preparation for the Ultra-Low Emissions Zone, which begins next April. Businesses like Hermes have an important role to play in helping us clean up the city's air and these electric vans will bring health benefits, not only to their drivers, but people across London."
Peter Eaton, General Manager of CNG Fuels, said: "We have been working alongside the Hermes Transport Team to facilitate extensive CNG vehicle trials over the past 12 months. The feedback from these trials has resulted in Hermes placing an order for 30 Iveco Stralis CNG units, which is the largest opening order of CNG tractor units from a UK company so far. It's fantastic to see one of the largest UK parcel delivery companies move so confidently and significantly in to this technology after recognising the multiple benefits of running vehicles on 100% Waste Derived, Renewable and Sustainable Biomethane Fuel."