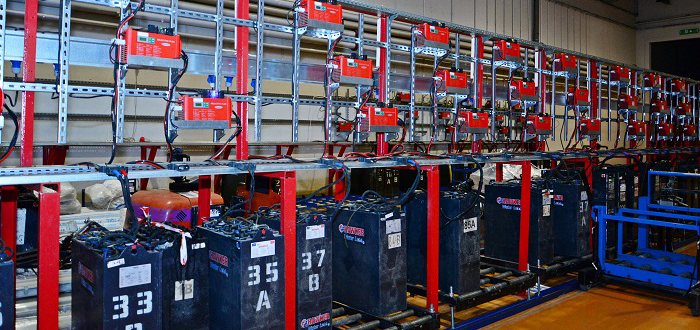 Fronius supplies FM Logistic with energy-saving and environmentally-friendly battery charging technology.
A huge step in the direction of increased sustainability
FM Logistic, a leading international provider of storage, transport and packaging services, has set its sights on the use of resource-conserving technologies. The company relies on a fleet of electrically powered forklift trucks with innovative charging technology from Fronius at its storage and distribution centres in Poland. The fleet is helping the company to significantly reduce its energy consumption, while also extending the service life of the expensive lead-acid batteries. Not only is this good for the environment, but it also lowers operating costs.
From the procurement of raw materials to production supply and distribution right through to delivery to the end customer: logistics is playing an increasingly important role in the majority of companies across all industries. A faster, more efficient and more flexible material flow is becoming a decisive competitive factor, as productivity, availability, supply capability and quality all depend on it. At the same time, the flow of goods in global value-added networks is becoming ever more complex, and managing these intelligently and economically not only requires suitable capacities, but also comprehensive know-how. For this reason, many companies outsource their logistics processes to professional service providers.
FM Logistic is one of the most successful companies on this market. The family enterprise founded in 1967 in France is an expert in all tasks along the entire supply chain – from the storage and handling of goods to transport and distribution right through to production and packaging support. With branches in 13 countries, around 22,000 employees and an annual turnover of one billion euros, FM Logistic is an international leader in the industry. High-profile food manufacturers and retailers, cosmetics and pharmaceutical companies, and representatives from the electronics and automotive industries rely on the specialist's services for smooth material flows. FM's storage capacities cover an area of more than 3.3 million square metres, with a fleet of roughly 2,500 forklift trucks.
Modern technology is a prerequisite for efficient logistics
FM Logistic is particularly well established on the European continent, for example in Poland, where the company has around nine logistics centres and employs roughly 3,000 members of staff. The Polish national subsidiary founded in 1995 is situated in Mszczonów, south-west of Warsaw. "Our customers expect highly modern, efficient logistics processes from us that are perfectly tailored to the respective goods," explains Mariusz Gajek, Technical Director CE at FM Logistic. "With fragile products such as fresh food or medicines in particular, this not only requires a certain amount of expertise, but also suitable technical equipment." Both the company's fleet and logistics centres must therefore always be at the cutting edge.
FM Logistic sets great store by resource-conserving and sustainable solutions. The service provider has been a member of the Green Freight Europe project since 2013, a voluntary initiative for improving the life cycle assessment of goods transport by road. The company employs energy-saving, ecological solutions that reduce the emission of CO2 exhaust gases and particles as well as noise pollution. This is also achieved through the use of vehicles with hybrid, electric and LPG drives: electrically powered forklift trucks in the logistics centres ensure a quiet, low-emission and efficient material flow. Around 600 of the vehicles are in use at FM Logistic in Poland alone – often running around the clock in three-shift operation, including weekends and bank holidays. Many of the forklift trucks reach 5,000 operating hours per year.
Save energy when charging batteries
The energy consumption of the forklift truck fleet also represents a significant cost factor. FM Logistic was looking at ways to reduce this as part of its optimisation measures, and in 2014, the company contacted battery charging technology specialist Fronius. With the battery charging systems from the latest Selectiva generation, the Austrian technology leader has developed a solution for charging traction batteries for intralogistics operations in a more efficient and gentle manner. This drastically lowers energy consumption and CO2 emissions while simultaneously extending the service life of the expensive lead-acid batteries. "We put the new technology from Fronius to the test, and with impressive results," recalls Gajek.
The Selectiva devices with the new Ri charging process offer a key advantage: while other charging processes follow fixed characteristics and thus convert a considerable amount of the energy used into heat ineffectively, this process works according to the effective inner resistance (Ri) of the connected battery, which is dependent on the battery's age, temperature and state of charge. "Every charging process takes place according to an individual characteristic," explains Mateusz Kaleja, technical consultant at Fronius Perfect Charging. "This reduces overcharging and minimises energy losses." Reduced energy consumption not only lowers the operating costs for the forklift truck fleet, but also CO2 emissions. What's more, the Ri charging process has a positive effect on the service life of the batteries. "The charging process is gentler due to less warming of the battery during charging, which means that its capacity is retained over a longer time period," explains Kaleja.
Easy to use and extremely reliable
FM Logistic now uses Selectiva chargers in different power categories in several of its Polish logistics centres. They can be used flexibly to charge different batteries and are easy and safe to operate: a clear display shows the user at a glance if and for how long the connected battery has been fully charged. "It is of particular importance that the batteries have time to cool down," says Gajek. "This extends their service life considerably." The device selects the optimum setting for the characteristic automatically, so the employee simply has to connect the battery, making operating faults a thing of the past. "The battery charging systems function flawlessly and are extremely reliable," says Gajek. "Energy consumption has gone down by up to 30 percent compared to the systems we used to use. Not only that, we need to replace the costly batteries less frequently," he concludes. FM Logistic was therefore able to significantly lower the operating costs of its forklift fleet while taking an important step towards greater energy efficiency and sustainability. "I am confident that we will continue to see battery charging solutions like these from Fronius in the future."
Meta title: Energy-efficient battery charging technology from Fronius in use at FM Logistic
Meta description: Fronius Selectiva devices with the Ri charging process optimise the energy consumption and operating costs of FM Logistic's electrically powered forklift truck fleet