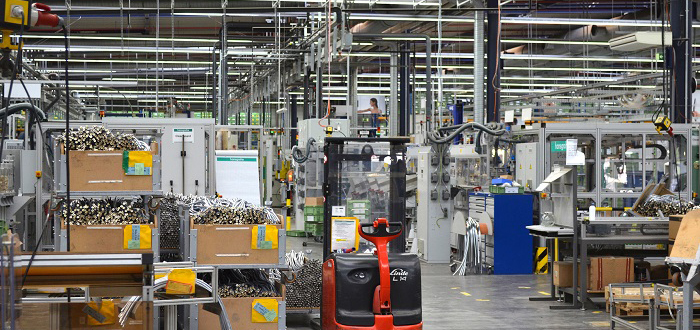 Fronius battery charging technology boosts energy efficiency at Hansgrohe.
Saving energy costs with every charge
Wels, 30/08/2017 – Products from the German bathroom fittings and shower specialist Hansgrohe SE are known and sold all over the world. Around 120 electrically powered forklift trucks ensure a streamlined and productive flow of materials at its production sites in Schiltach and Offenburg in Germany. Forklift trucks, batteries and charging technology are all part of a leasing package from Linde distributor Schöler Fördertechnik, which chose Selectiva devices from Austrian specialist Fronius to ensure the most energy-efficient charging of its traction batteries. The intelligent Ri charging process and a range of individual characteristics enable Hansgrohe to charge every battery according to its current needs, thus helping reduce operating costs.
The efficiency of the technology being used has always been a crucial sales argument in the intralogistics sector. Goods have to be transported from A to B quickly and in the most cost-effective manner possible, as only then will companies be able to adhere to their delivery dates and despatch products promptly when they are ordered. This means that more attention is being paid to the energy consumed by logistics processes – for example, when operating electrically powered forklift trucks. Reducing the amount of energy they use is not only environmentally friendly, it also results in significant cost savings, something that was brought home to the German bathroom fittings and shower specialist Hansgrohe SE in 2015, when it carried out an in-depth study of its forklift truck fleet and its associated infrastructure.
The range of products offered by the Hansgrohe Group is huge, covering everything from bathroom and shower fittings and accessories through to sinks and other kitchen equipment. Trading under the brand names hansgrohe and Axor, it offers more than 1400 products for the bathroom and kitchen sectors, and not just standard, off-the-shelf versions. Its manufacturing facilities also produce customised and one-off products at the request of its customers. With a history stretching back over a century, the company has made a name for itself not just for the quality of these products, but it also has a reputation for its innovation and design prowess too. Today, the Hansgrohe Group comprises 34 companies with 21 sales offices around the world and is one of the few global players in the sanitary sector. In financial year 2016, it supplied fittings and showers in over 140 countries and posted turnover in excess of one billion euros. The company employs approximately 4,800 employees worldwide, 60 percent of whom work in Germany. Ever since it was founded in 1901, its headquarters have been in Schiltach in the Black Forest. In addition to Germany, it also has production sites in France, China and the USA.
Faster material flows improve efficiency
Hansgrohe uses electrically powered forklift trucks at its production sites in Schiltach and Offenburg to ensure its intralogistics workflows are as smooth and as efficient as possible. Approximately 120 forklifts, some of which are fitted with back-up batteries, transport goods reliably through the production halls to their destinations – very quietly and without any harmful emissions. "In 2015 we decided to update the charging technology used by our forklift fleet," explained Johannes Kopf, investment planning project manager at Hansgrohe SE. "We had two main objectives: firstly, to create more space in the halls and secondly, to reduce the amount of energy used during the charging process – without ignoring any of the legal requirements." To free up some space in warehouse logistics, goods-in/goods-out and in manufacturing, it was decided to consolidate and reduce the number of charging stations from seven to four. Fleet availability was another factor: "We work two- and three-shift systems, so the forklifts have to be available practically all the time," said Kopf.
The perfect match: forklift truck, battery and battery charging system
The forklift trucks used by Hansgrohe are supplied as part of a leasing package from distributor Schöler Fördertechnik AG. The Linde sales partner has enjoyed success in the sector for more than 50 years, supporting its customers with a comprehensive service offering and many years of experience in material handling and the renting of forklift trucks: "We visited Hansgrohe to see exactly what they needed and recommended a leasing package consisting of forklift trucks, batteries and battery charging systems," noted Thomas Blechschmidt, warehouse technology sales manager at Schöler. "We provided a complete solution, including a full service package, giving Hansgrohe not just efficient technology, but also a single point of contact for all matters relating to their fleet." The lease period is 60 months. Most of the forklift trucks come from Linde, the batteries from Hoppecke.
"The electricity consumption of the battery charging systems that we used to use was higher," recalls Kopf. This was because the traditional charging processes converted a large proportion of the energy into heat, which was then lost. This consumed a lot of electricity and also resulted in lower efficiency figures. It could also damage the battery and significantly reduce its capacity and service life. "It was above all the high costs that persuaded us to modernise our charging technology." While searching for a suitable solution, Schöler quickly came across Fronius, the Austrian specialist in battery charging technology. "It was important from our perspective to be able to offer our customers a charging solution that was reliable and energy efficient and that met all their requirements" commented Blechschmidt. The complete package also convinced Hansgrohe.
Special charging process protects battery
Before the project went live, Fronius used its I-SPoT lifecycle costs calculator to compute current consumption levels and show where potentials savings could be made. "The Fronius technicians calculated that we could reduce energy costs by 25 percent if we used the appropriate charging technology. That clinched it for us," explained project manager Kopf. Fronius delivered the first 3kW and 8kW Selectiva devices in the autumn of 2015. With Active Inverter Technology and the Ri charging process, these devices provide the most advanced process on the market for the charging of traction batteries. "What's really neat about them is that the charging process does not follow a fixed characteristic, but adapts itself according to the age, temperature and condition of the battery," observed Martin Obereigner, area sales manager at Fronius. "Our approach minimises the overcharging that produces the high energy losses seen in other processes, with the result that charging is extremely energy efficient and gentle. This in turn reduces electricity consumption and increases the service life and performance of the batteries."
Ease of handling and highest levels of energy efficiency
Other plus points include the very simple operation and compact, lightweight design of the chargers: "All our employees have to do is plug in the batteries and unplug them again at the end of the process. Everything else is handled by the external automatic Start-Stop system. Another nice touch is the LED strip on the device, which shows if the connected battery has been fully charged and has now cooled down," commented Frank Weber, goods-in and internal transport team leader. "This helps us achieve a much more uniform utilisation of the forklifts and batteries than was previously the case," continued Weber. The presence of USB ports on the Selectiva battery charging systems enables settings such as characteristics to be copied and loaded onto other devices, as well as providing the ability to retrieve and analyse data from previous charging cycles.
Fronius charging technology is found not just in the production halls, but outside as well: "We installed a Selectiva 8kW charger outside in a special housing," explained Obereigner. The rugged aluminium design of the housing is certified to IP54 and reliably protects the sensitive electronics against dust and water spray from all directions. It also boasts a dust filter and a large viewing window. "The protective housing means the charger remains fully operational and ready to use, whatever the weather conditions – even when it's pouring or there are marked differences in temperatures," noted Obereigner.
Twenty-five percent lower electricity consumption and more space
"The Fronius chargers have worked without a hitch since we started using them and have not caused any damage – we haven't had to replace a single battery," reported Weber, a very satisfied team leader. This has also resulted in an improvement in fleet availability. Switching to Selectiva devices has paid for itself, despite the slight increase in leasing costs: "The 25 percent reduction in electricity consumption that the Fronius technicians predicted at the start of the project has actually materialised. The additional monthly costs are paid off in the first week – and for the rest of the month we save hard cash every time we charge our batteries," explained Kopf. Schöler sales manager Blechschmidt is also impressed: "The gentle charging process reduces energy costs for Hansgrohe and the batteries retain their charge for much longer. For us, this means less servicing and repair work, and we are able to reuse the batteries without any difficulties when they're returned to us at the end of the 60 months. A real win-win situation, both for Hansgrohe and for us as the distributor." The new technology has also had a major impact in terms of space utilisation: the compact footprint of the chargers means they take up much less space than their predecessors. "This gives the forklift trucks more room in which to manoeuvre, and we have been able to reduce the number of charging stations from seven to four," explained Kopf, before concluding: "The chargers work perfectly and have brought us numerous benefits. The collaboration with Fronius has been excellent as well, right from the initial planning phase through to installation."