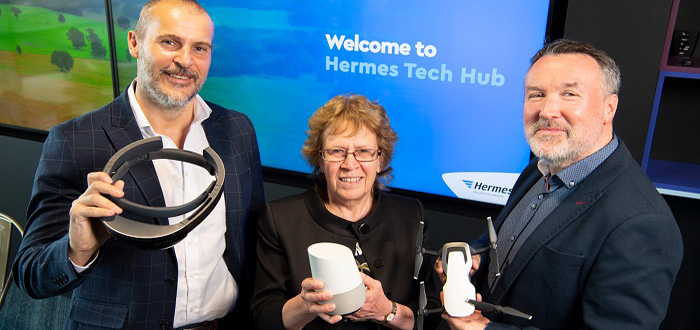 COUNCIL LEADER GETS A GLIMPSE OF THE FUTURE AT NEW TECH HUB
The Leader of Leeds City Council immersed herself in the latest innovations at the official opening of the Hermes' state-of-the-art Tech Hub on Wednesday 5th. Judith Blake was given a tour of the new premises at No.1 Whitehall Riverside before speaking at the event.
She delivered a presentation alongside Hermes CIO Chris Ashworth and Stuart Clarke, the Founder of Leeds Digital Festival, before testing a number of the delivery firm's products, including a Pay & Print In-Store device and Hermes Play, as well as the latest prototypes, such as a drone, a VR headset and a smart lock. Attendees included Rob Henderson, Key Account Manager at Leeds City Council, Richard Stringer, Employer Engagement Consultant at Leeds Beckett University, and George Dunbar, Project Director at Office Insight, who designed and fitted out the hub.
Hermes opened the 6,500 square foot office in the centre of Leeds as part of its commitment to innovation and to facilitate the next stage of its growth. This expansion will also see the company recruit a number of technology specialists, including senior developers and UX experts.
To find out more about Hermes' current vacancies, including those roles to be based at the new Tech Hub, email: [email protected]