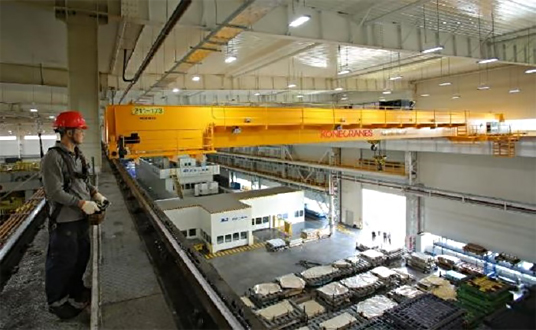 Automotive die leader SSDT partners with Konecranes as it focuses on China 2025 smart manufacturing targets
A company that has set its sights on achieving global leadership standards in automotive die manufacturing, Shanghai Superior Die Technology Co Ltd (SSDT), is partnering with Konecranes to help it achieve world-class standards of quality, reliability and safety.
SSDT – an affiliate of SAIC Motor Corporation Ltd, employing more than 2,300 people – has so far installed a total of 46 sets of Konecranes lifting technology, as it expands its plants in Shanghai, Nanjing, Yantai and Wuhan.
The lifting technology, composed primarily of Konecranes' top-selling CXT types, is integral to SSDT die and automotive parts production and product handling, as it builds towards its China 2025 industry development plan focussed on high-tech fields, including achieving top global standards of Industry 4.0 smart production strategies.
SSDT produces hundreds of thousands of sets of doors, hoods, decklids, and front and rear floors annually, as well as manufacturing thousands of tons of large auto-body covering dies for domestic and overseas automakers.
SSDT's research and development drive since its establishment in 2003 has seen it produce new technologies, including ultra-high strength metal hot stamping dies and aluminium dies – something not previously produced in China and the quality and value of which is aimed at top end manufacturers in Europe.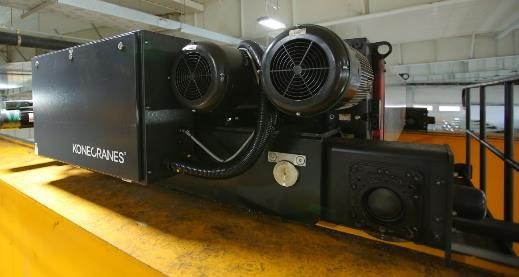 Konecranes high reliability CXT hoist drive with adaptive speed range.
SSDT's cranes – including its most recent repeat order for a set of double 60/30-ton types – are primarily equipped with high reliability Konecranes CXT hoists, of which more than 10,000 are sold every year. The CXT wire rope hoist is known for its efficient use of space under the crane and its excellent hook approaches. Safety is improved through high-performance brakes, durable wire ropes and remote operation. The cranes' adaptive speed range means loads move at an optimal rate, enhancing control and improving productivity, yet still saving energy.
"When SSDT set up our production base, Konecranes was already selected as our crane partner because Konecranes ticked SSDT's high quality and high efficiency requirements," said SSDT Planning Department Director, Mr Xia Zhuwei. Konecranes also offered strong, locally based service and support, which was an advantage over other international companies, which may have good product, but their localisation of services is not good, he says. "After sales service is the key for maintaining a stable business and Konecranes has done a good job on this."
The Konecranes lifting equipment selected also had to match and support the performance of the technology obtained, since the company spent $US200 million setting up its plants – "For example, SSDT chose one of the best press machines in the world, which was the fastest one in Asia at that time, so choosing a crane from Konecranes appropriately matched our high requirements," he said.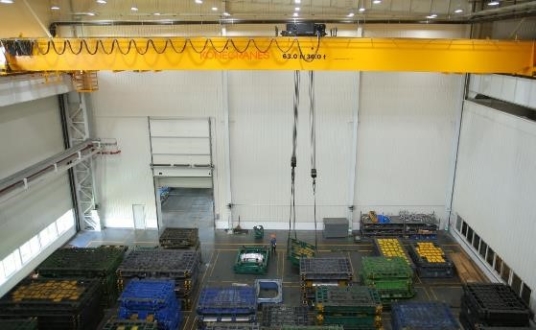 Konecranes technology is critical to the manufacture both of automotive parts and automotive dies.
The Konecranes units installed at SSDT are critical to the manufacturing processes of SSDT parts. They are stable and reliable in service, says Mr Xia, and backed by prompt maintenance from Konecranes, which is the world's largest crane service organisation, with more than 600,000 pieces of lifting equipment under service contract worldwide. Importantly for SSDT, Konecranes' local service operations in China provide very quick reaction to service needs to ensure optimum equipment uptime.
In Mr Xia's experience, which includes broad experience working with major industry suppliers including other European brands, Konecranes has a very good localisation of resources, including strong local service facilities, which is important, especially for after-sales service, when cranes need maintenance and when repairs are needed urgently. The strong partnership between SSDT and Konecranes means the two companies can work together to further enhance localisation where this is required.
SSDT's cranes are used in major areas including:
Press shop work, where steel plates are overlaid on moulds for pressing to produce critical components such as doors and front and back body cover structures. Cranes are used to lift and change the heavy moulds, which is quantified by tons.
Production of the die moulds themselves, in a dedicated production process, where cranes are used in the lifting, manoeuvring, loading and unloading of heavy steel coils.
Safety is integral to the equipment installation and production processes for which the cranes are used – "And the safety of the crane is not only about the machine itself, but also includes the after-sales maintenance, because maintenance is the key to safety. The overall level of safety provided by Konecranes is very good," says Mr Xia.
SSDT and Konecranes work in partnership to tailor technology to customers' needs.
The benefits of the long-term partnership with Konecranes, extending from 2003, pays dividends in terms of Konecranes' deep knowledge of SSDT's requirements and processes, something which is important as the company optimises the efficiency of its own processes and focuses on future markets with new demands, such as high-strength metals and New Energy Vehicles (NEVs).
The partnership means Konecranes and SSDT can work closely together, for example, to combine advanced automation features (such as those found on Konecranes SMARTON cranes) with the existing preferred cranes, which best fit SSDT's height requirements.
"When SSDT buys a product such as a crane, they are not just buying a piece of machinery – the value and focus is how to use the crane most efficiently and how to fit it to our needs. So, it is beneficial to us that Konecranes has both top expertise in the cranes business and particular knowledge of SSDT's requirements and processes, so we can work together to design customised cranes for specific needs. In this way, Konecranes can provide cranes that are not only better fitted towards customer needs, but are also highly cost competitive."
Konecranes' global focus on whole-of-lifecycle monitoring and service – including digital and IOT monitoring to determine remaining economic life – can also provide further opportunities for Konecranes and SSDT to work together to minimise crane downtime, which is very important to the company, says Mr Xia.
Konecranes technologies available to SSDT can be invaluable in predicting maintenance needs and analysing the source of any interruption, including whether these are addressed by machinery design or operator behaviours.
Konecranes' ability to collect and analyse such data can help them formulate future proposals for SSDT, predicting future demands for the company and providing the resources to meet them.
Mr Xia says further introductions of technology and localisation of service will further benefit the relationship with Konecranes, "but Konecranes today is doing well. They offer good localisation of resources, work with us to minimise downtime, and have built up a thorough and specific knowledge of SSDT products and processes, which provides cost-efficiency. SSDT is enthusiastic about our future work with Konecranes to achieve China Manufacturing 2025 goals."