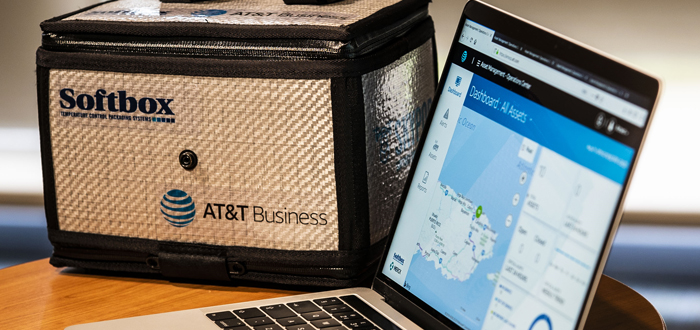 AT&T, Softbox And Merck Test Connected Payloads And Drone Flights To Deliver Medical Supplies In Puerto Rico.
AT&T* is taking part in a proof of concept with Softbox to test connected medical payloads carried by drones. The goal? Successfully and safely deliver temperature-sensitive medicines using drones.
An LTE-connected drone carrying Softbox's thermal-insulated packaging system "Skypod," which includes a smartbox powered by AT&T's Internet of Things (IoT) technology, successfully completed demonstration flights. The field trial with Merck, the pharmaceutical company, took place in locations across Puerto Rico. Softbox, based in the UK, provides specialist temperature control packaging to the pharmaceutical industry.
"Merck is pleased to collaborate on this innovative new model for delivering medicines to patients in areas affected by natural disasters," said Brenda Colatrella, executive director, Corporate Responsibility at Merck. "We're proud of our long history of expanding access to our medicines and vaccines and collaborating to provide humanitarian assistance. The drone test flights give us hope that we will be able to provide a reliable supply of our medicines for disaster."
AT&T's IoT technology tracks the Skypod with data viewed on a web and mobile app dashboard. The data includes near-real time external and internal temperatures of the box and its location. Light exposure data helps signal if there is box tampering during daylight, by determining if the box is open or closed.
The dashboard app will flash alerts to help drive appropriate action. For example, it will send an alert if there is a change to the temperature range of 2°C to 8°C. It will also send an alert if the drone goes outside of defined geofencing parameters.
AT&T and Softbox have adapted the Skypod from a connected flask prototype developed in the AT&T Foundry, which they showcased earlier this year. The AT&T Foundry is a network of innovation centers that collaborates with startups, technology providers and enterprises to move ideas to market faster through rapid prototyping. It moved the IoT sensors that track temperature and location from the lid of the original prototype and fit them into the smartbox.
"We're proud to be working with AT&T in this dynamic, industry-first trial. The connected Skypod could be rapidly deployed globally in times of humanitarian disaster relief," said Softbox Technical Director Richard Wood.
The connection that makes it possible
The AT&T Global SIM and AT&T Control Center connect and manage the Skypod's sensor data transmission. The web and mobile app reporting dashboard uses the AT&T Asset Management Operations Center.
The drone is also connected to the AT&T network, providing a communications path for flight plan and telemetry data between the drone and ground control system.
Last year, AT&T deployed the helicopter Flying COW (Cell on Wings, cell site on a drone) in Puerto Rico following Hurricane Maria. It was the first time a drone had been used to connect residents with their mobile phone services after a disaster.
"With the 2018 hurricane season upon us, we are thinking about the devastation caused by Hurricane Maria last year. This trial is a fantastic example of 'IoT for Good,' showcasing that it's possible for connected medical drones to deliver vital medicines to people in times of disaster," said AT&T Region President for Europe, the Middle East and Africa, John Vladimir Slamecka.
To learn more about AT&T IoT solutions, go to www.business.att.com/solutions/Portfolio/internet-of-things/
About Softbox
Softbox is an award-winning temperature control packaging innovator that has been designing and producing high performance passive temperature control packaging solutions for over 20 years. We offer consistent quality to our clients from our strategically located global manufacturing sites throughout Europe, Americas, India and Asia Pacific.
We have formed long standing partnerships with the world's leading pharmaceutical, clinical research, biotech and logistics companies, and apply innovative thinking to overcome the challenges that our clients face in managing the Cold Chain when shipping temperature sensitive clinical trial and commercialised products.
For more information about Softbox and its innovative packaging, visit www.softboxsystems.com
*About AT&T Communications
We help family, friends and neighbors connect in meaningful ways every day. From the first phone call 140+ years ago to mobile video streaming, we innovate to improve lives. We have the nation's largest and most reliable network and the nation's best network for video streaming.** We're building FirstNet just for first responders and creating next-generation mobile 5G. With DIRECTV and DIRECTV NOW, we deliver entertainment people love to talk about. Our smart, highly secure solutions serve over 3 million global businesses – nearly all of the Fortune 1000. And worldwide, our spirit of service drives employees to give back to their communities.