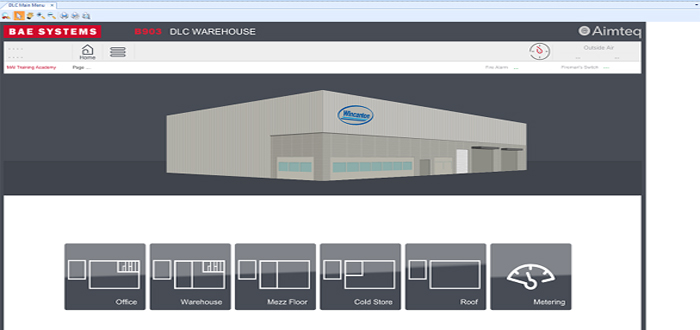 Aimteq completes the successful installation of a building management system for BAE Systems.
· New BMS brings precise control to HVAC, DHW and cold store functions
· System based on Schneider SmartStruxure enterprise system
· Project management, training and maintenance services also provided by Aimteq
Aimteq has completed the successful installation of a Schneider BMS (building management system) at a new £10.8 million Defence Logistics Centre for BAE Systems. The project, which was awarded to Aimteq by M&E contractor, Murray Building Services, provides easy and precise control of functions such as domestic hot water (DHW), radiant heating and the site's cold store for the storage of carbon fibre material.
BAE Systems' new 165,000 sq ft Defence Logistics Centre sits adjacent to the company's engineering and manufacturing facility at Samlesbury in Lancashire. Occupied and operated by logistics specialist Wincanton, the facility accommodates a 150-strong workforce.
Optimised building performance
Aimteq's proposed solution was based on the Schneider SmartStruxure enterprise system as it matches the existing site-installed BMS system across the estate. SmartStruxure combines proven building management software with hardware innovation to connect everything from sensors to services over one IP backbone. The end result lets users monitor, measure and optimise building performance throughout its life cycle. Aimteq custom-branded the interface for BAE Systems.
BMS functionality at the new site principally relates to HVAC control and monitoring in both the warehouse and single-storey office areas (gas radiant heating), as well as destratification fans, DHW control, heat recovery units, electric panel heaters and MODBUS metering. In terms of system configuration, two panels were built by Aimteq for the offices and warehouse containing Schneider SmartX AS-P controllers and I/O modules, as well as touchscreen tablet displays. The BMS, which is also connected to the main site-wide Schneider system via IP network, offers viewing from the SmartStruxure front end complete with Aimteq-designed graphics.
Cold store challenge
One of the project challenges was to provide monitoring of the already-constructed cold store areas, where cables could not be run easily. However, Aimteq was able to install sensors that could connect back to SmartStruxure so that BAE Systems engineers could have visibility of the cold store temperature and generate alarms if the temperature deviated from the required conditions. The cold store must be at a specific temperature for the storage of carbon fibre material.
User training was provided by Aimteq to Wincanton staff on familiarisation of the system, which was completed in October 2016.
Customer satisfaction
"I've been really impressed by Aimteq's project management and communication throughout," says Jon Farmer, Energy Management Lead at BAE Systems. "They have bent over backwards to ensure smooth project delivery. Furthermore, they are very dedicated and have come back to the site to resolve a few very minor snags."
To ensure ongoing system optimisation, Aimteq has two, one-day maintenance agreements currently in place with mechanical contractor, Murray Building Services.