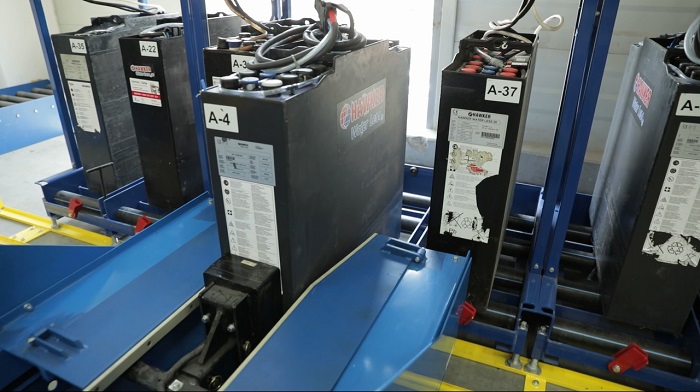 Advanced battery and charging technologies from EnerSys® boost dm-drogerie markt's warehouse productivity.
Enersys, the global leader in stored energy solutions for motive power applications, has enabled dm-drogerie markt to significantly enhance productivity at its central warehouse in the Czech Republic after building a customised charging room to optimise the performance of the batteries used in its fleet of on-site lift trucks.
dm-drogerie markt s.r.o. sells drugstore and cosmetic products through its 223 retail stores distributed across the Czech Republic. The company supplies all these stores from a central warehouse located in Jihlava. In the past, they had relied on a 1.5 or 2-shift operation during normal periods, with more extensive coverage during peak periods such as pre-Christmas or in the summer.
These long periods of continuous activity meant lost time in recharging motive power batteries, as they held insufficient charge for the operating time needed. This situation was expected to worsen as the company was planning to introduce a third shift – and a fourth 24/7 operation in peak periods – to support its steadily growing business presence. Accordingly, dm-drogerie markt asked EnerSys to design and install a new battery charging station, which could handle the expected workload while improving battery status visibility and operational efficiency.
The existing charging arrangements had inefficiencies and offered room for organisational improvement. The complement of around 25 batteries was previously being charged both in and out of trucks, at the charging station or anywhere else within the warehouse; without supervision and a clear maintenance plan. Further inefficiencies occurred through relatively low battery lifetimes, storage spaces that were forgotten, and lift trucks being scattered around the warehouse.
In late 2013, dm-drogerie markt s.r.o decided to upgrade from a basic battery change room focused on replacement to a more flexible and optimised fleet management control room. This culminated in the solution from EnerSys®, completed in March 2017 after a 3½ year project. The new room occupies little, if any more, space than the original charging station, yet can accommodate up to 150 batteries for both palette trucks and retraks. Almost 100 of these batteries and chargers are already in place, with the rest to follow on a continuous delivery schedule. The facility is now handling all charging for about 97 per cent of the site's entire battery fleet.
The new installation comprises mostly, if not entirely, Hawker® Perfect Plus™ and Water Less® motive power batteries, each type with its own advantages as discussed below. However, major benefits in productivity, efficiency, energy savings and safety also arise from the application of advanced battery fleet management systems, including the Wi-iQ® battery controller and Hawker BSI40™ battery status indicator. These tools are applied to all of the batteries in use at the warehouse in Jilhava and provide real-time visibility of battery status; enabling operators to make well-informed decisions about optimal battery management and deployment.
The Wi-iQ® modules are small monitoring devices that can be fitted to any type of EnerSys battery. They communicate wirelessly with the charger, management PC and BSI40 battery rotation system installed in the control room. The modules, fitted to main DC cables on the batteries, monitor, record and communicate current, voltage and temperature data, and, optionally, electrolyte level through an external sensor. LEDs provide real time indication of battery status. This information allows operators to check that batteries are being charged correctly, as well as being discharged to an optimum level. This reduces the number of battery recharges or battery changes on the trucks, maximising uptime per vehicle.
The BSI40 battery status indicator is used as a central resource for managing the entire battery fleet, streamlining battery change and ensuring selection of the 'best battery' for each truck. It organises first-in, first-out battery rotation, with a digital display to indicate the next available battery. Longer truck run-times between battery changes are ensured, while battery performance and service life are maximised.
The battery technologies also improve efficiency. Hawker® Perfect Plus™ cells provide higher capacity and efficiency in discharge, achieved by advanced components used in the construction of the positive plates. The sizing of the positive and negative plates has been optimised according to the volume available in the cell boxes. Meanwhile, the Water Less® units provide more flexibility and more time due to longer topping up intervals of four, eight or 13 weeks depending on charging technology. This means reduced labour costs for topping up batteries.
Petr Vaněček, logistics manager at dm-drogerie markt s.r.o., comments on the success of the project, which he feels owes much to the close co-operation of staff from EnerSys in listening carefully to the company's needs and preparing a customised solution accordingly. He adds: "The BSI40 battery rotation system gives our warehouse operators a clear indication of battery status and what to do. This helps to avoid human error, which often negatively affects productivity and efficiency. A key advantage is clear indication of which battery should be used to avoid incorrect and unbalanced battery rotation. This all increases operator safety, productivity and supply chain optimisation, reducing waste and inappropriate usage to a minimum."