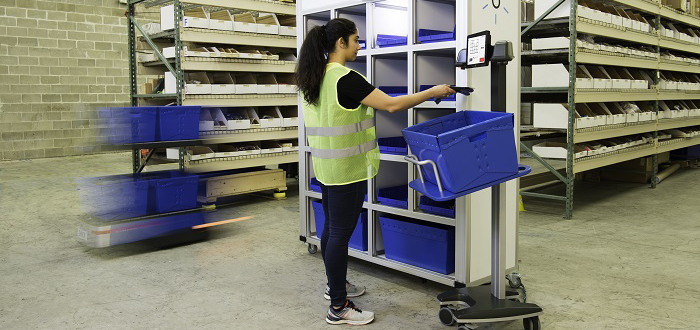 6 River Systems to Showcase Collaborative Robotic Solutions at IMHX 2019
Fulfillment automation provider continues to grow presence in Europe, gives attendees hands-on experience with product
6 River Systems, Inc. (6RS), the provider of the world's first and only fully collaborative mobile robotics solutions, today announced that it will attend IMHX 2019 in Birmingham, England from Sept. 23-27 to showcase its full line of automated solutions at Booth #6D242.
As warehouses around the world are challenged with maintaining workforces while hitting productivity goals, 6RS is a leader in providing automated solutions that enhance manual tasks. Operating on cloud-based software, 6RS products include Chuck and Mobile Sort.
Chuck is a mobile collaborative robot for picking and fulfillment tasks which communicates with the company's software to coordinate all the tasks on warehouse floors. The result is a fleet of Chucks working seamlessly and collaboratively with associates to eliminate long walks, reduce in-aisle walking and speed up warehouse tasks, including put-away, picking, replenishment and sorting. 6RS announced general availability of Chuck in Europe this February, and will continue to grow its international presence in 2019 to meet the needs of its global customers.
Mobile Sort, which was introduced in 2019, enables warehouse operators to intelligently generate and fulfill batched orders. Mobile Sort stations consist of smart kiosks and mobile put-to-light walls with validation sensors that work with 6RS' software and Chuck. Once an order is picked, Chuck delivers the totes to take-off points, where they are sorted into orders using the Mobile Sort stations.
"We've heard from our customers around the world how our solutions are helping automate tasks and increase efficiencies across their warehouse workforce," said Fergal Glynn, VP of Marketing at 6RS. "We look forward to introducing our collaborative robotic solutions to new audiences at IMHX this year."
To see the products in action, 6RS invites attendees to its daily "Pick to Win" competition at its booth (#6D242). Those interested in seeing how Chuck automates and streamlines tasks can join the challenge to pick items off shelves as quickly and accurately as possible. Attendees with the highest pick rate each day will receive a prize.
To learn more about 6 River Systems, please visit: www.6river.com.