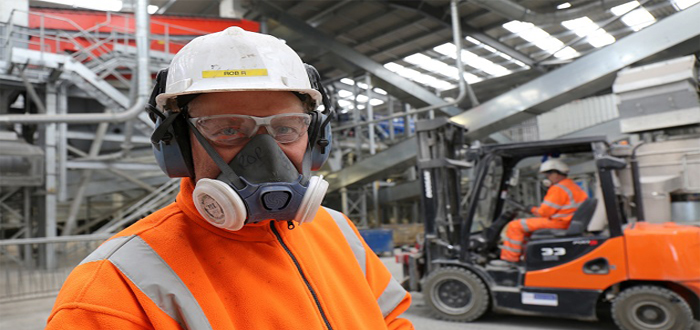 £10m recycling plant invests in the future.
Windsor supports growth at Johnsons Aggregates
Construction materials experts, Johnsons Aggregates & Recycling Ltd, have invested in new equipment from Windsor Materials Handling after opening a state-of-the-art plant in Ilkeston to manage increased volume of incinerator bottom ash recycling.
The new multi-million-pound recycling plant opened in February, after the Derbyshire business secured a funding package from the Business Growth Fund and NatWest to support construction of the site, where up to 450,000 tonnes of incinerator bottom ash materials will be recycled each year.
Operations manager, Kevin Marshall explains: "We were originally set up as a provider of quarried and recycled aggregates for construction and engineering projects. Now, we also handle large muck shifts and supply sand, soils, gravels, salt and specialist ash."
The ash is produced in incineration facilities, and typically contains small amounts of metals. Crucially, it can be recycled to regulate the material and remove contaminants allowing its use as a recycled aggregate for building projects, cement blocks and concrete. IBA aggregate, as it is known, has many usages, but without facilities similar to those at Johnsons, it can often end up in landfill if there is no local demand for it.
In order to move the material around Johnsons' heavy industrial environment, sturdy machinery was required, and the local branch of Windsor Materials Handling stepped in to help the growing business. A new customer for Windsor, the aggregates supplier took on two forklifts ideal for the tough application – diesel-powered Doosan trucks with 3 and 3.3 tonne capacity.
The two forklifts, although on the same chassis, differ in their usages at the aggregate supplier's plant. One of the machines includes a rotator, added by Windsor as an extra requirement of the business, and allows stillages of aggregate to be tipped safely into a hopper within operation.
"The environment we work in is very noisy and dusty, and we knew we would need robust machines to tackle the daily challenge," continues Kevin. "Windsor pulled out all the stops to ensure the trucks were ideal for the job and the addition of stronger seals and heavy duty air filtration on both machines means dust doesn't compromise their reliability."
Established in 1999 by Steve Johnson, Johnsons Aggregates' operation runs 52 weeks a year, which means extra planning and vigilance around holiday periods is important. "Windsor's service has been second to none. They were able to accommodate our requirements for the rotator as well as the stronger seals and air filtration, and still managed to deliver on time. We have had zero problems with the trucks since we took them on," added Kevin.
In addition to the two Doosan trucks, Johnsons Aggregates took on a Windsor service contract and have also been quoted for machinery from Windsor's access range. As one of the leading independent materials handling suppliers in the UK, Windsor was founded on service in 1977, and has now been providing access lifts as part of their offer for 10 years.
Director for Windsor's Nottingham office, Andy Lane, was proud to hear Johnsons Aggregates were happy with the trucks. "I'm pleased that the trucks are proving to be an asset to Kevin's team," he said.
Concludes Andy: "Windsor is built on the philosophy of a local service offered nationwide, and this demonstrates the advantage of this. We can support local businesses and help them grow, while also having the knowledge and expertise of a national business."