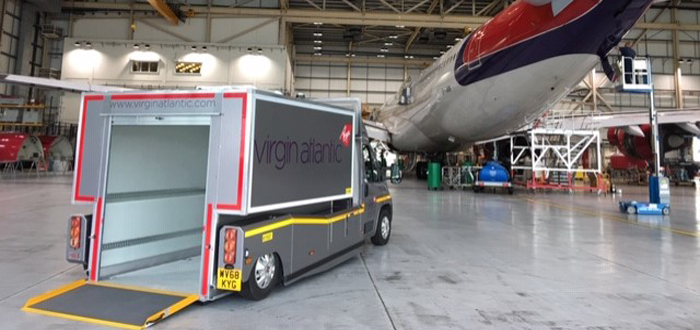 Rushlift GSE kits-out Virgin Atlantic with drop-box solution for handling aircraft tyres
Rushlift GSE, the specialist airport ground support equipment subsidiary of Doosan Industrial Vehicles UK, has provided Virgin Atlantic with an innovative Alfa Drop Box solution for facilitating the changing of aircraft tyres at London's two busiest airports.
The ground-level loading, fully demountable drop-box system allows the easy loading and unloading of aircraft tyres, such as those used on the Airbus A340, Boeing 747 and 787 Dreamliner, and provides the option to exchange or totally remove a box from its chassis for fast turnaround – making the boxes useful for storage as well as transport.
In a leasing agreement arranged through Rushlift GSE, three specially adapted front-wheel drive Fiat Ducato vehicles, along with three T-boxes and three flat-decks, were supplied to Virgin Atlantic for airside deployment at Heathrow and Gatwick airports.
The versatile system, with its unique 'U' shaped chassis, allows a box to be gently lowered and left at a location while work is being carried out, freeing up the vehicle for other duties and helping to reduce the size of the fleet required.
Shaun Judson, Senior Material Operations Planner at Virgin Atlantic Airways, said: "We were looking at ways of reducing the physical burden on our engineers when manually handling aircraft tyres. After looking at the Alfa Drop Box system in action we could see just how much more efficient it was compared to our existing tail-lift operation – both in terms of ease of loading and unloading for the engineer and operationally, with its inherent versatility and cost effectiveness."
He adds: "Working with Rushlift GSE and Alfa Drop Box we were successful in implementing a highly effective and flexible solution with plenty of options for the future."
Tim Willett, Operations Director at Doosan Rushlift GSE, said: "We were delighted to help support our long-standing customer, Virgin Atlantic, in securing a highly innovative solution to an important airside maintenance task."
Virgin Atlantic leases its ground service equipment from Rushlift GSE under a full maintenance contract.
For further information on Rushlift GSE go to https://www.rushlift.co.uk/gse/ or call 0208 564 4949