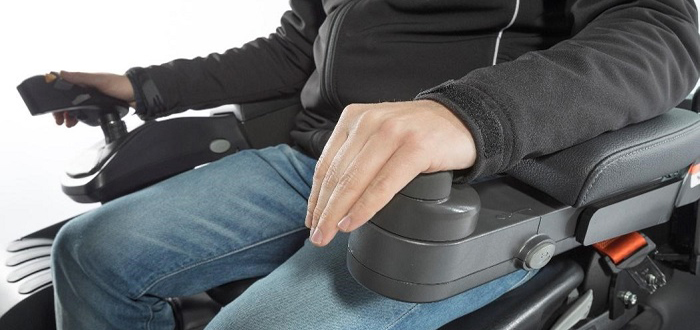 Product Spotlight: How TCM's FB Electric 3-4 Wheel Counterbalance Truck Ensures Operator Comfort
TCM's new, improved FB Electric 3-4 Wheel Counterbalance truck boasts class-leading energy efficiency and ergonomic features for maximum operator comfort.
Operator safety and comfort has never been more important. Can you confidently say you're offering your operators the best handling experience? Discover how TCM's new, improved FB Electric 3-4 Wheel Counterbalance truck could help.
Comfort might not be the first word that springs to mind when you think of material handling operations, but for your operators, it's a matter of health and safety.
An uncomfortable material handling experience can cause lasting health problems whilst limiting an operator's ability to work at optimum efficiency. If productivity is a challenge across your warehouse team, could poorly designed counterbalance trucks be limiting their time at the wheel?
With its progressive features and energy efficient credentials, TCM's FB Electric 3-4 Wheel Counterbalance truck could be the solution.
In addition to its impressive features and credentials, the FB Electric 3-4 Wheel Counterbalance truck boasts the design of a reach truck applied to a counterbalance model.
What do its features mean for your operators' ability to carry out their duties comfortably and productively?
Mini-steering wheel ensures maximum operator comfort
The conventional steering wheel with column on the FB Electric 3-4 Wheel Counterbalance has been removed and replaced with a left floating armrest that integrates a mini-steering wheel. A safety bar and document holder complete the package.
By adjusting the height and length of the armrest, the mini-steering wheel enables the operator to achieve a neutral body posture for maximum operator comfort. Minimal movement is necessary; simply operate the wheel with the palm of your hand for quicker steering, optimising efficiency.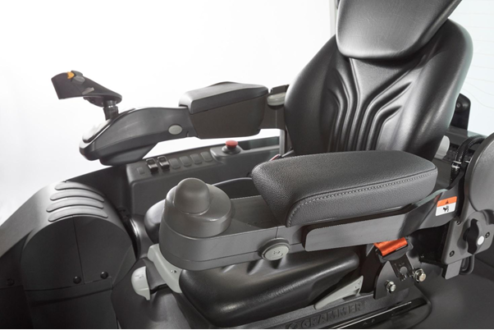 Further truck safety features include an armrest interlock function and safety bar, ensuring the armrest stays put and providing the operator with something to grip onto in case of an accident, respectively.
The neutral body position encouraged offers optimised ergonomics and ensures the operator's arm is constantly supported, causing less stress to the arm. Currently, TCM is the only manufacturer to offer such a solution.
Ergologic joystick alleviates stress and muscle fatigue
The FB Electric 3-4 Wheel Counterbalance model also features a multi-functional ergologic joystick, enabling the operator to carry out frequently used functions with ease.
The joystick alleviates stress to the driver's neck, dominant shoulder and hand thanks to its 'power grip' design while reducing muscle fatigue by facilitating easy access to the truck's multi-functional controls.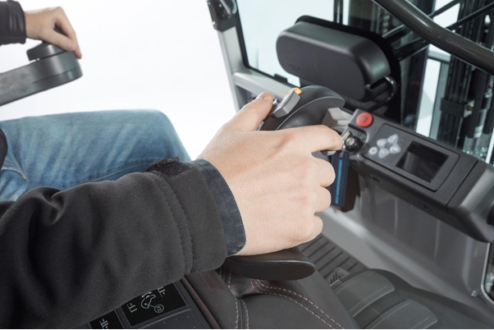 The ergologic joystick encourages a neutral body posture and is intuitive for the operator to use, contributing towards greater material handling comfort and efficiency.
Fully-optimised visibility ensures operator safety
If the truck's new ergonomic features aren't enough to persuade you of its merits, the entire FB Series also boasts fully-optimised visibility.
As a trusted material handling equipment manufacturer, TCM recognises that accidents can happen, especially in a demanding and high-traffic working environment.
That's why the FB Electric 3-4 Wheel Counterbalance features a thin rear pillar, flat bar overhead guard, low instruments panel, and transparent panel to increase fork-root visibility.
TCM's safety features are built to last and take into account how forklift trucks are actually used in real-world environments.
Helping to keep your operational costs low
Aside from being engineered for maximum comfort and safety, the FB Electric 3-4 Wheel Counterbalance Truck boasts class-leading energy efficiency, keeping your operational costs low.
TCM views truck sales as a long-term strategic partnership and takes a consultative approach to understand your operations, processes, and workforce. This includes considering factors such as servicing and maintenance when determining the total cost of ownership.
By taking a holistic approach to material handling, TCM will help you to identify areas where a more efficient truck would boost productivity, reduce costs, and most importantly, create a happier, healthier workforce.
TCM: www.tcm.eu
Email: [email protected]